What's the skinny? What we know so far is that Rascal Rider is a cyberpunk-flavoured Road Rash-em-up, coming to us from Polish indie developers Cameleon Labs. We also know to expect speed and violence in spades.
Just the facts, please: Drawing together a team of developers with experience of working on games like S.T.A.L.K.E.R. and Lost Alpha, Cameleon Labs set to work on Rascal Rider to deliver a modernised version of the violent, vehicular combat racers of older generations.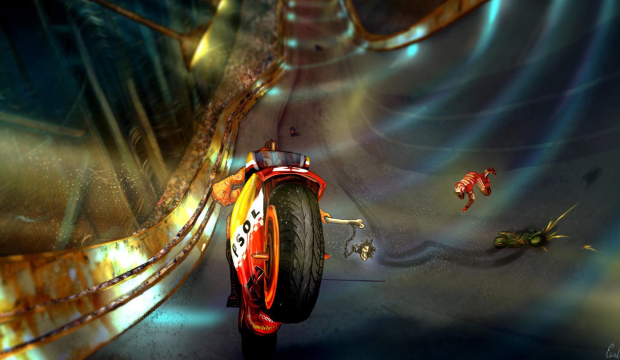 Set in 2097, Rascal Rider follows a protagonist who was put into "hibernation" for 80 years following a severe crash that left him in a terrible condition. When his funding ran out, his bill was picked up by a mysterious organisation who demand reparation when he finally wakes up: take part in a new ultra-violent, no-holds-barred motorcycle racing show and win. Refusal will result in a termination of his medical cover, which will ultimately lead to his death. Harsh, but fair.
The game has a cyberpunk feel, and will feature the option to approve or veto the use of its numerous weapons in each race, meaning that if you want to have a straight race with no blood and  guts, you can. The assortment of man-splatterers includes guns and melee weapons designed to help you take out the competition as messily as you like. Anything goes in Rascal Rider's dark, dystopian world.
A graphic novel will be released episodically, starting alongside the game's launch, and will chronicle the protagonist's original accident and the events leading up to his hibernation and subsequent awakening. A brief mention in the trailer of his fiancee's death hints at a mystery in the storyline, and we're hoping for more of a narrative than "we own you, race for us".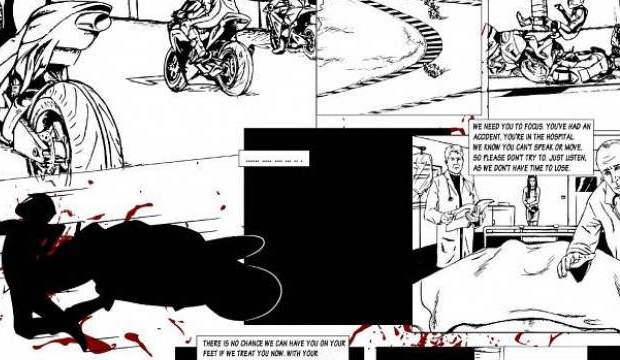 Apparently, we might even see Oculus Rift support for Rascal Rider. Though nothing is confirmed as of yet, Cameleon Labs are said to be exploring the possibilities of bringing the awesome VR technology of the Oculus Rift to their game, which, quite frankly, sounds just a little bit ambitious, but absolutely brilliant if they can pull it off.
Should we be excited? It's hard to say as we're yet to see any gameplay, but there are a number of points that have piqued our interest. First off, the art style in the story trailer, below, is excellent. Reminiscent of Platinum Games' Wii-exclusive MadWorld, it features black and white images coloured here and there with shocking splashes of crimson.
At present, we don't know whether the gameplay will resemble this, or the rather more colourful style in some of the concept sketches. A combination of the two seems likely; with the black and white used for cutscenes and the more dynamic theme used for the game proper.
We're also quite excited by the cross-play prospects. Apparently, no matter what system you own Rascal Rider on, you'll be able to transfer your progress to others. So if you're playing on an iPad but want to switch the action to your mate's Windows Phone or Mac, you can do so.
We can only guess at the gameplay at this point, but we're promised solid action and a choice between racing, fighting or a mix of both. We'll bring you more details as they emerge, but for now check out the story trailer and cross your fingers that the artwork shown there and in the concept sketches makes it to the finished game.
[nggallery id=1584]