Daedalic Entertainment don't only produce their own adventure games, but have also recently taken to picking up smaller developers and helping to publish their projects. 1954: Alcatraz is one of those personal projects that has gone from being a one-man labour of love that was incubating for four years, to becoming a fully polished retail game. But this isn't what makes the game such an exciting prospect – it is the innovative puzzle solution system and choice and consequences tree that sets it apart from most games in its genre.
1954: Alcatraz centres on Joe and Christine – a modern mixed couple, living in fifties San Francisco, in the middle of the Beat scene. Joe has been incarcerated at the legendary island prison for playing a part in an armed robbery – but there is much more to the case than meets the eye. Joe on the inside and his wife on the outside must work in parallel to help him escape from jail and unearth the whole truth behind the robbery. That might sound hard enough, but when you take into account that an over-eager Detective is trailing Christine, and that a Mob boss is chasing her for the lost loot from the job, it becomes an even more difficult prospect.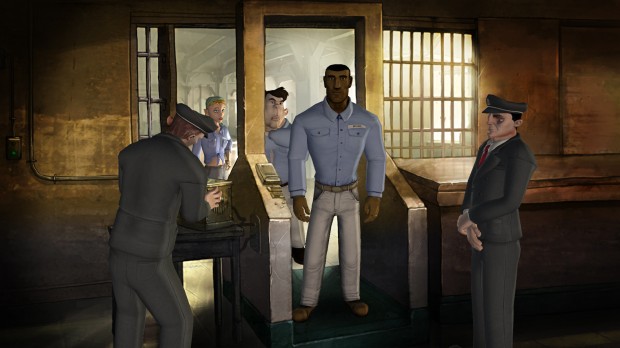 The preview build that we got our hands on may not have been fully translated from German yet, and was missing many lines of spoken dialogue from the game, but the fundamentals of what makes 1954: Alcatraz a different proposition to other point and click games are clear to see right from the start. Whereas most games in the genre will have one absolute walkthrough, with an exact set of puzzles and solutions, Alcatraz does not. The idea behind the game was to create an experience that had multiple solutions to puzzles, and would change from one player to the next.
The designer Gene Mocsy has managed to combine the branching storyline and decision system found in games like the runaway success The Walking Dead: The Game, with more traditional adventure gaming. Alcatraz doesn't contain action sequences or light puzzling as found in the Telltale series, the game is all about inventory-based puzzlers and dialogue trees. Because of this, the game doesn't maintain the same sort of cinematic pace and feel of those games but takes more of a considered and thoughtful approach. Alcatraz is all about choice, and thankfully there are no real dead-ends; if you solve a puzzle through diplomacy, that won't prevent you from advancing the story, it will just take a different route forward than if you used brute force, for instance.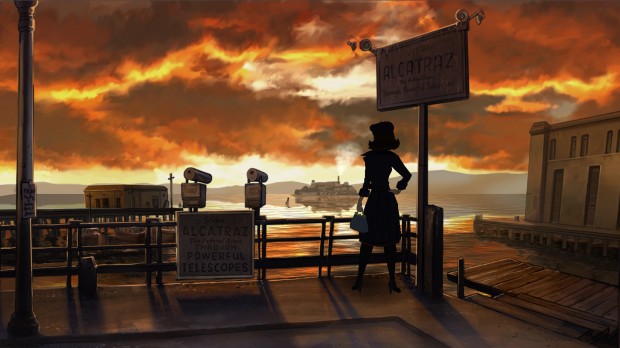 Having worked at Autumn Moon entertainment previously, the designer and writer had worked on such titles as A Vampyre Story and Ghost Pirates of Vooju Island – both very old-school in their sensibilities – Mocsy had the chance to work with many ex-Lucasarts employees. This shows through when you play the game, which features such gameplay touches as the chance to switch between the two lead characters at will – a technique that first emerged in LucasArts titles Maniac Mansion and Day of the Tentacle. This too allows players to approach the game in their own way – taking things at the pace they want. It also allows for two different gameplay styles. Joe will invariably have to resort to physicality, whereas Christine can often opt to talk her way out of trouble – if the player chooses to.
With all of this choice, not only are there multiple endings to experience – with one "perfect" ending reserved for players who follow the best path through the game – but there is also something else that is almost entirely unheard of in Graphic Adventure games; optional side quests. This is the sort of thing that is usually reserved for role-playing games or open-world titles, but Alcatraz contains quite a few sub-plots and extra tidbits that players can either choose to pursue, or completely ignore if they please. This is very unusual for the genre and unlike most point and click titles it will actually encourage you to take multiple play-throughs of the game, in order to experience things you may have missed first time around.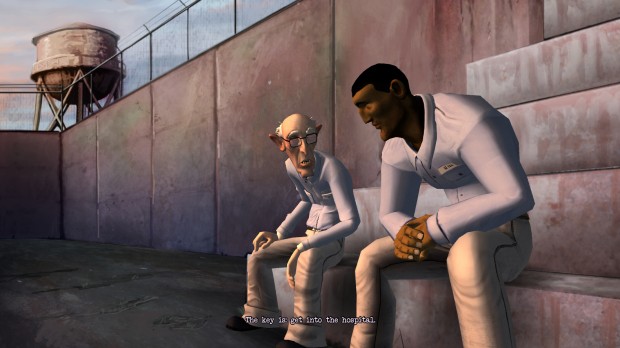 The game maintains a fairly light-hearted tone for the most part, but it is punctuated by some extremely violent ones. Of course, how often these occur will depend on how you choose to play the game – it is entirely possible to avoid most of the violence through taking a peaceful approach. But for a game that is centred around criminals and prison, there is bound to be a few unsavoury elements on display. Luckily this doesn't drag down the tone of the game, and whilst it is very much centred around some very serious plot elements, the game remains a love story of sorts at heart.
1954: Alcatraz tries some really daring things, and subverts what many gamers will expect from a point and click title. Although the gameplay mechanics are very familiar, it is the freedom and choice that makes the game such an exciting prospect. Unfortunately it will never garner the sort of attention that titles like The Walking Dead can manage – this is an entirely original property that is a very human one at its core – but it is shaping up to look just as good, and offer even more unique choices. 1954: Alcatraz is due for release later in the Spring, so make sure to check back then for the full GodisaGeek.com review.