Over the past few weeks, we've been having a look at the latest items in Corsair's Vengeance Range, and here's our results.
Vengeance K70 Keyboard
This keyboard is all about the textile sensation. From the non-slip wrist-rest, to the textured spacebar and ribbed optional WASD/number keys. Everything is designed to feel fantastic while you type. It provides an exceptional experience.
The optional gamer keys aren't just coloured red for WASD to stand out more, they're actually shaped to help guide your fingers back to the home position without looking down at the keyboard. The A key dips towards the D and vice-versa, keeping your fingers in the ever-important FPS position. Finger placement is vital with gaming, and the K70 has a form factor that reflects that.
The button placement is quite high, in comparison to most other keyboards. This, along with the mechanical keypresses, creates an almost typewriter-like feel to typing with the K70.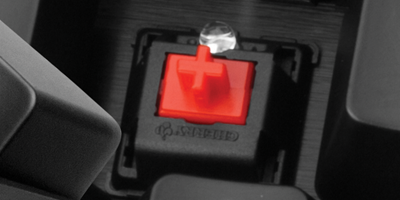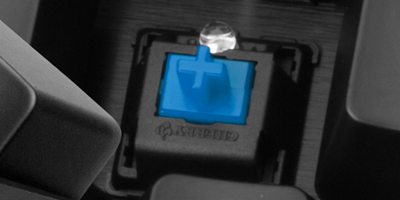 With the K70 you get a choice of Cherry Red, Blue or Brown keys. Cherry Blue is generally considered very 'clicky' – this is the traditional mechanical keyboard type. Cherry Brown is a little quieter, making more of a 'clack' sound. Cherry Red is the softest of the three, creating very little noise, while providing the most feedback. The Cherry Red keys on the K70 are quite weighty indeed. Your choice of cherry keys is going to be very personal, so you'll probably want to try them out first-hand before ordering. In our opinion, Cherry Red requires just that bit too much weight to the keypress, it makes typing feel a little too much like hard work.
Somehow Corsair have managed to make this keyboard look very minimalist, while providing a lot of functionality. The multimedia control keys on the right are particularly useful, providing stop, back/forward, play/pause, mute and a rather funky analogue volume rocker. There's also adjustable red LED key back-lighting and a Windows key lock. Everything on this keyboard is there for a reason, and that plays to the design brilliantly. That black anodized brushed aluminium chassis looks gorgeous, too.
It's available for under £100 from Amazon UK. / $130 from Amazon US.
Vengeance M65 Mouse
From the offset, you're made very much aware that this mouse is designed with the First-Person-Shooter gamer in mind. Everything about the layout screams "HEADSHOT!"
Shaped ergonomically for comfort, the top of the mouse has a smooth-to-the-touch finish, while the sides are rough for additional grip. There's blue lighting around the middle button and highlighting the two profile-switching buttons top centre, which you can turn off. Between them is an LED light indicating the profile you're currently using – this one can't be disabled, but it's handy to have some visual awareness of which profile you are actively using.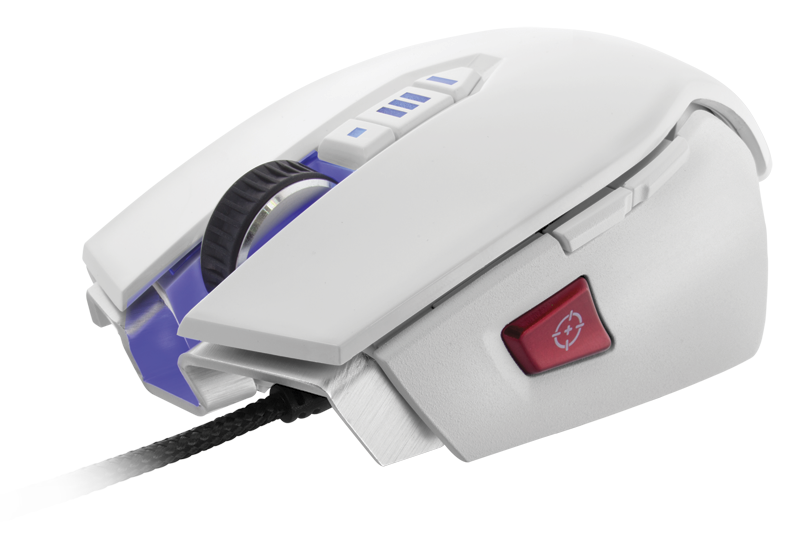 The buttons and their placement, though, are what make this mouse truly special and stand out among the crowd. The profile-switching buttons on top of the mouse can be used to switch between the three DPI profiles, customisable in the Corsair Configuration software, and there's a handy mouse 4 and 5 or forward/back button alignment just above the thumb. But the special feature is the red 'Sniper' button directly at the default thumb placement.
The Sniper button temporarily changes the DPI – lower by default – to provide that needed higher or lower sensitivity at a moment's notice. The idea here is to hold the button down when you look down the scope of your sniper rifle, to slow down movement and provide a chance for a bloody headshot. Then you just lift your thumb off the button and you're back to your regular DPI. Such a fantastic idea. So many games have increased sensitivity during sniper scoping, with the crosshair swaying all over the screen at speeds that make a headshot increasingly difficult. Here's a legitimate way of getting a slight advantage and improving your sniping skills. Of course, you could use this button for anything from push-to-talk, to trigger-fire, as all the buttons are completely customisable. But the temporary DPI-switch is something quite unique and it would be a shame not to make the most of it.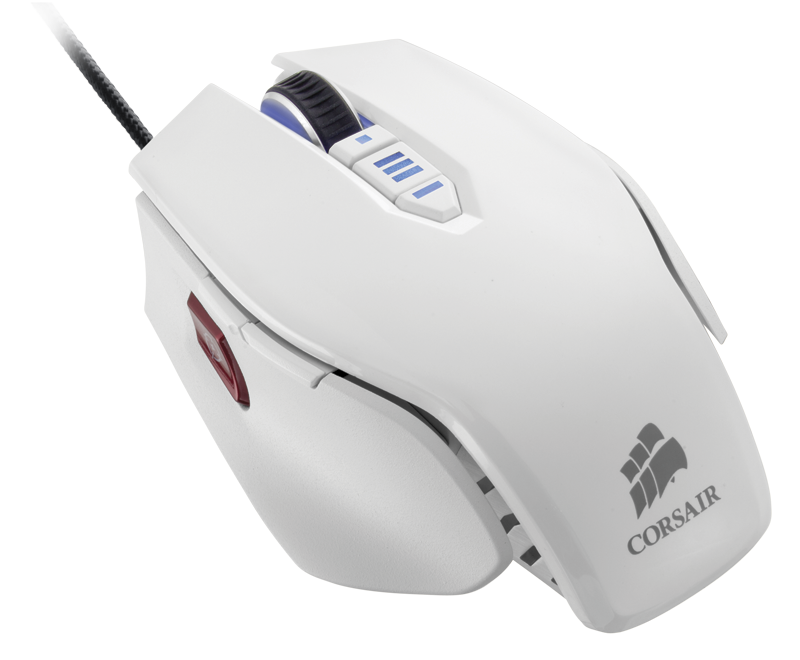 Corsair's configuration software is functional, offering lots of tweaking from altering the delay times of button pushes, to programming advanced macro commands. You can set the three switchable DPI profiles, as well as the fourth Sniper profile, supporting up to 8200 DPI. Rather interestingly, this software offers a Surface Quality Test, which will measure the quality of your mouse mat or desktop as you move the mouse around.
The M65 is incredibly accurate and as sensitive as you could possibly require. It's customisable in ways no other mouse offers, and is extremely comfortable. If you're an FPS gamer, you need one of these in your life.
Available from Amazon UK for under £50 in black, and slightly more in green or white. $60 for black/white on Amazon US and as low as $50 in green.
Vengeance MM200 Gaming Mouse Mat
We tested the M65 and M70 on top of Corsair's MM200 cloth mouse-mat, which is lovely and soft to the touch, while providing a smooth surface for gliding the mouse over.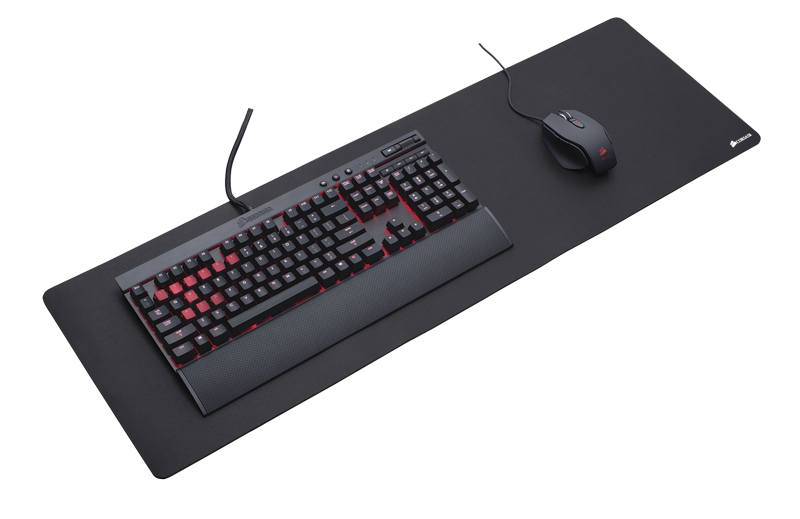 The rubber underside ensures a non-slip experience, while the large size enables you to keep mouse and keyboard on the same level. We found the mat to be more than efficient.
Curiously however, our plain MDF Ikea desk scored higher than the MM200 in Corsair's own Surface Quality Test, in the mouse's configuration software. We don't recommend using a laser mouse on a shiny surface, though. So whether you grab the MM200 or another fabric mouse mat, you're better off with a nice smooth surface for gaming, than a wooden desk.
The mouse mat is available for under £30 / $40.