Let's make one thing clear right away: the Libratone Zipp looks fantastic. The inter-changable coloured wool sleeves look great around the speaker, providing options for a different mood depending on the environment you're placing it in at any given time. They're easy enough to remove, with a simple zip down one side.
The cylindrical shape lends well to the portability of the design, as well as the acoustics. It's easily placed anywhere in a room, wherever there's space for the small round footprint – and the stereo speakers will blast out around the room regardless of location. Many other similar products require speakers to be placed at the edge of a room, to project sound inwards – the Zipp doesn't care. The sound quality on the Zipp is immense, it really does produce a vibrant 3D output.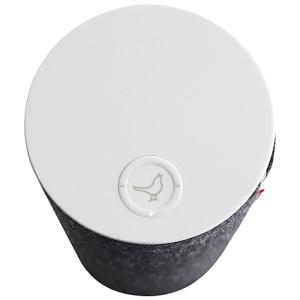 On the back of the device is a solid leather strap, which can fold down to hide behind the speaker when not in use, but is easily swivelled round ready for you to pick up-and-go. The marketing teams at Libratone will no doubt push the idea of taking the speaker with you to the park, out to a BBQ or something equally exciting that'd be rather dependant on nice weather. But we found the Zipp was just as useful indoors, if not more so. Listening to your favourite podcast while doing your chores? No problem, grab the speaker by the strap and take it with you from room to room, as you do your laundry and wash the dishes. You can be dancing away to Pharell Williams' Happy while dusting your video game consoles in the living room, then take your playlist with you while you brush your teeth and head to bed. Your music follows you around the house.
Sure, you can take the Zipp with you to exciting venues or summer locations, but regardless, the Zipp brings a spark of entertainment to all the usually boring aspects of your life. It's for that reason that we think it's an amazing piece of tech.
Hidden away along the 'rear' of the device is an LED battery-life indicator, two mode buttons (direct/wifi), an auxiliary input socket, and a USB port. There's user-friendly on/off and volume up/down buttons on top of the unit. The AUX input allows you to use the speaker with a wired connection, by plugging in a standard 3.5mm audio jack. Using this socket, you can plug an MP3 or optical media player directly into the Zipp, using it whilst out and about, or you could plug it into your PC, TV, or other media device and use it as a regular static speaker. The USB port could just be used to charge your iOS device while streaming to the speaker, or you could plug in a USB thumb drive full of MP3s and play your music that way. For such a small device, there are quite a few options when it comes to ways of playing your music.
To set up the Zipp initially, you'll need to enter Direct Mode (top button on the rear), connect your Smartphone to the Libratone WiFi access point, then launch the app (download this from the App Store / Google Play Market) and you'll be presented with a few basic options. You'll have the opportunity to name your speaker and then connect it to your home WiFi network. Once connected to your WiFi network, the speaker will reboot and you can pop it into WiFi mode (the second button on the rear) and it will then be accessible wirelessly throughout your home/office environment.
All you need to do on an iPhone is open a song or video, and press the AirPlay icon and select the Libratone speaker – it's that simple.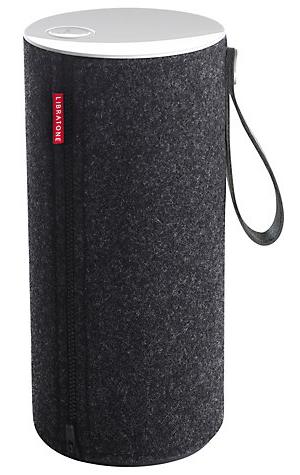 Unfortunately, it's not so easy with Android or Windows Phone devices. Obviously being proprietary Apple software, AirPlay isn't officially supported outside of iOS, but there are plenty of Android apps that will support it – we tested one called Streambets, which worked satisfactorily.
However, the Zipp is DLNA certified. This means it should play nicely with any other DLNA certified hardware. There's also a large number of DLNA capable software available to both Android and Windows Phones. Then, again, it becomes a case of opening a DLNA-supported app, choosing Libratone as your speaker, and playing your music. This does unfortunately mean Spotify won't be streamable from Android or WP8. Streaming to the Zipp from a Windows PC isn't exactly a piece of cake, either, so we have put together an additional guide for wireless streaming from a Windows PC.
If you're travelling around with your Zipp, away from WiFi networks, you can switch it back into Direct mode and connect your Smartphone directly to the speaker that way. You won't have Internet access, obviously, but you'll still be able to stream your MP3s directly to the Zipp.
When it comes to streaming from an Apple device, the Libratone Zipp is arguably the best portable speaker device on the market. It's when you start introducing Android and Windows devices, however, that things get complicated, and other options may be preferable.
The sound quality really is great on this thing. That shouldn't be understated. There's some fantastic bass, and it can be set really loud too. It is however a little on the expensive side. Available with yellow, fuscia and black sleeves for £369.95 from Amazon UK
.