The AC1900 is at the top-end of the Linksys Smart WiFi router range. The three antenna setup uses beamforming technology and dual-band signals to enhance your WiFi connection to no end. However, what interested us about this router is its ability to increase wired network performance for a better online gaming experience. Before we jump into the meat-and-veg of the feature run-down, here's a taster of the difference it made. The numbers speak for themselves, but we'll delve into them a little later. Just look at that ping difference.
Standard UK home-broadband wired setup VS Linksys AC1900 wired setup
Setup is incredibly easy. There are no driver discs, no downloading driver updates and no installing of bundled bloatware. With the Linksys AC1900, everything is done via the browser. Out of the box, it's a case of popping on the three antennae, plugging your broadband connection into the Internet Ethernet port, and then connecting to the Linksys WiFi SSID, printed on your Quick Guide. Once connected, you'll be directed to LinksysSmartWiFi.com, which is where you'll go to in the future for any further alterations you might need to make to the configuration. Setup takes moments, and is really just a guided tour of the naming and security options. There is a WPS button on the rear, too. For one-button WiFi setup.
Smart WiFi Tools available from the configuration website are: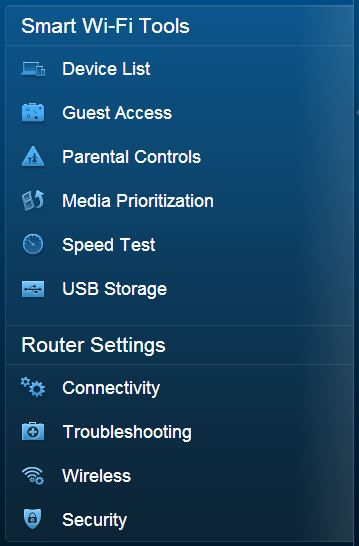 Device List will obviously show all connected wireless/wired devices, showing NetBios info. It's a good way of keeping track of who/what is connected to your network(s).
Guest Access is particularly handy. If you enable guest access your router will create a second set of SSIDs for users to connect to without needing to know your WPA key. You can set a simple password that will need to be entered after users have connected, once they try and browse the net – much like you'd expect to see on a public WiFi. You can limit the number of guest connections, too. It's a good way of sharing your internet connection, without giving people access to your personal home network.
Parental Controls can be used to block specific internet sites, restrict internet access on certain devices, or block the internet access entirely at specific times of day/night. These three options are easy to set up, and could be really useful for ensuring a child-friendly network. If the censorship of UK ISPs doesn't do the job for you.
Media Prioritization is the Linksys AC1900's user-friendly wording of Quality-of-Service setup. Here you can give priority network bandwidth to specific devices, programs, streaming media services or most importantly: video games. The drag-and-drop interface is one of the simplest setups of QoS we've seen, and it's really effective. If you have a lot of users on your network, or just one particular YouTube-obsessed user and you don't want their internet habits affecting your Call of Duty match, give COD the priority and you'll ensure your game always gets priority bandwidth. If something has to give, it'll be your younger child or sibling's YouTube streaming, rather than your game lagging. Who cares about a little video buffering, when the alternative is a missed headshot?
USB Storage is an extremely useful tool indeed. Plug a USB device into one of the slots on the rear (USB 2.0 or USB 3.0) and you have your own instant NAS setup. You can instantly share media content across the home network, The AC1900 is DNLA certified, too. So it should stream to most compatible devices. More interestingly though, is the fact that you can connect to your USB storage device remotely via FTP. This means you could store your favourite game configs on a USB pen, stick it in the back of your router and have access to it from wherever you go, with no need to carry anything around with you. It's basically a personal cloud storage setup.
Security contains all the extra tweaks that might come in handy to the advanced user, including firewall, DMZ, manual port-forwarding, VPN pass-through and internet filters.
The router itself is promoted as Dual Band Smart WiFi. What this comes down to, is that you can connect to your home network on two WiFi bands, the more popular but slower 2.4Ghz, or the faster 5Ghz. This will result in top speeds of up to 1.3Gbps via 5GHz and 600Mbps via 2.4GHz. If your laptop or other WiFi-enabled device supports 5Ghz WiFi connections, you're going to be getting a speedy network connection, thanks to the three directional antennae.
There are of course four 1GB ethernet ports on the router, and this should be the connection method of choice, if physically possible. While the Linksys AC1900 is an amazing WiFi router, any self-respecting gamer will run their gaming setup via Ethernet, to get the absolute best connection with the lowest possible latency.
We ran a series of tests on the network, before and after installing the Linksys AC1900. While the difference in speed/latency over WiFi was predictable, we honestly weren't expecting such a dramatic performance increase over the wired connections, too. Going from a default home broadband setup, to using the AC1900 as a hub, we increased our line quality from a C to an A, and the ping dropped by over 100ms. That's the difference between playing on a local LAN, and playing cross-continent. That's really damned impressive.
The results below show two sets of 3 consecutive ping tests, at the same time of day, before and after the installation of the Linksys AC1900:
Before:

After:

As you can see, the ping and jitter dropped to a much lower level, making for a far better gaming experience. Your mileage may vary, but we certainly recommend picking up an Ac1900 for yourself and seeing how much of a boost you can give your network, and therefore your online gaming. The Linksys AC1900 has blown our socks off. No core gamer should be without one.
Available for £128.06 from Amazon UK | $186.99 from Amazon US