LEGO, as a corporation, have their fingers in some serious pies. Harry Potter, Lord of the Rings, Star Wars, Marvel, DC – and those are just the franchises outside of their own breeding grounds. Then you've got girl-pleasing Friends, anthropomorphic animal caper Chima and ninja-themed action-adventure Ninjago: Masters of Spin-jitsu. The last entry already saw the light of day in video game form with LEGO Battles: Ninjago a few years ago, and now returns in LEGO Ninjago: Nindroids.
Co-developed by Traveller's Tales and Hellbent Games, Ninjago loops in characters from the TV show and throws them into an action movie-style conflict with the evil Digital Overlord and his army of Nindroids. Following the plot of the TV show's third series, it sees you take command of various characters and take the fight to the enemy over the course of thirty-something levels, built around the central hub of New Ninjago City.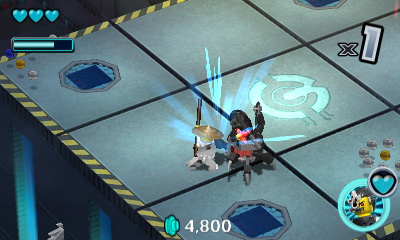 Fans of the show will find a lot to like. As with any LEGO game, the attention to detail is a premium concern – even more-so when the source material is their own franchise. Characters such as Nya, Sensei Garmadon, PIXAL and Cyrus Borg join protagonists Lloyd, Kai, Cole, Zane and Jay and a handful of supporting players both old and new. As with previous games, you'll take control of different characters as the story requires, but will be free to revisit areas with other unlocked characters in Free Play Mode, accessible through the hub.
Aimed squarely at the younger fan, Ninjago: Nindroids is incredibly easy even for a LEGO game. Despite a predominantly isometric viewpoint, the tried and tested series gameplay mechanics are almost entirely untouched. The puzzles, while mildly taxing for younger gamers, are an utter cinch for adults, and the action is fast-paced but rarely challenging. That being said, this game is not exactly primed for anyone over the age of 12, and as such is tilted perfectly towards its target audience.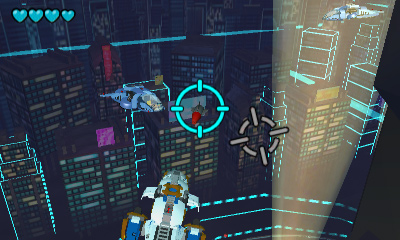 The levels are short, coming in bite-sized chunks that keep the pace high, interspersed with visits to the hub that are so uneventful as to be superfluous. This could have been a straight mission to mission adventure and it would have lost nothing. For players of a certain age, Ninjago will tick all the required boxes, but compared to other LEGO games it's a fairly bland affair.
Puzzles might take the form of a rudimentary memory game, or will use the environment (such as asking you to destroy something so a harmless droid will come to clean it up and you can get through security), but they're very straightforward. As with all games in the franchise, there is no fail-state, so you can die as many times as you want or fail a puzzle until the sun burns out and you'll never see a Game Over screen or have to restart.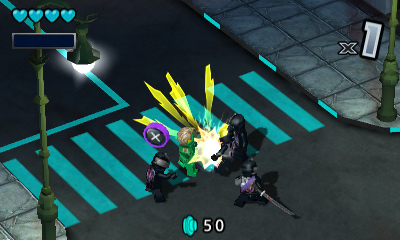 Each character has a skill – such as computer hacking or grappling – and switching between them when necessary is key to your success. Nindroids boasts a fairly small roster of playable characters, even with new folk added just for the game, but the relatively short lifespan means you don't need that many. Also, this isn't based on some sprawling franchise with scores of recognisable faces, so it's not a big problem.
The trademark sense of humour we've come to expect from LEGO is present, as ever, but the script is fairly tame, filled with silly sarcasm and clichéd one-liners. Sadly the aesthetics are unremarkable, mixing dull, lifeless environments with characters that often seem interchangeable and distinguishable only by their colours.
VERDICT: LEGO Ninjago: Nindroids is a comparatively lifeless affair, clearly designed for the younger gamer but with little to hold the interest of anyone other than fans of the TV show. The rinsed and repeated LEGO mechanics become less and less compelling with every game, and Nindroids struggles to feel relevant as anything other than a money-maker. For younger gamers and show fans, it's a decent enough romp; for anyone else, it's not really worth the trouble.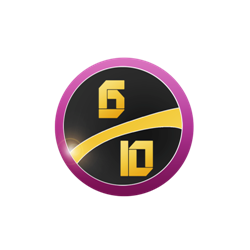 DECENT. A 6/10 indicates that, while this game could be much better, it still has a fair amount to offer the player. It might be an interesting title sabotaged by its own ambition, or a game denied greater praise by some questionable design choices. Don't avoid it outright, but approach it with caution.
Review code provided by publisher.