If you have awkward sausage fingers like I do, the prospect of playing certain games using a touchscreen device is a daunting one. Fruit Ninja I can just about deal with, but start looking at an emulator or something with one of those on-screen joystick thingies and I am out of my depth. The Ipega Wireless Bluetooth Controller changes all that.
It looks for all the world like an Xbox 360 controller. It even feels like one, too; weighty enough that it doesn't feel cheap, and with a layout that will be instantly familiar to gamers. It claims to be compatible with most Android devices using firmware of 4.3 and above, and jail-broken iOS tablets and phones. The Ipega controller is further proof that the days of shoddy third party devices are well and truly over, even if the manufacturer isn't necessarily a household name.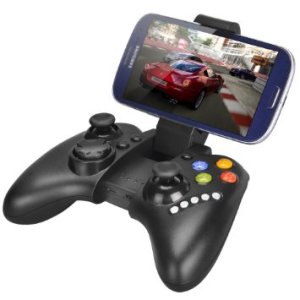 The packaging is pretty basic stuff: a nice clear plastic outer shell contains the ace-looking black controller, a USB charging device and an instruction manual that is a typically confusing Anglo-Asian blend of sense and nonsense. I managed to successfully operate it on the three Android devices in my household – a Samsung Galaxy S4 Mini handset, and our Galaxy Tablets (both the 2 and the 3). Setting it up proved to be straightforward and hitch-free, something which appealed instantly to my tech-fearing nature. Simply holding down the HOME button on the controller and pairing it up via the Bluetooth connection on my phone or tablet instantly connected things, and I was up and running.
The device gives you the option to configure the controller in Gamepad or Keyboard modes. From my own experience, the Ipega handled everything that I threw at it. Utterly terrific for old-school emulators, it is worth noting that some of these apps require a bit of a tinker in order to map the controls successfully. For example, some emulators will only work using Keyboard mode, others with Gamepad mode. This is a small price to pay when you consider the sprawling minefield of apps and games that populate the Play Store. There is even an option to download the iCade app from the Play Store which will give you a list of compatible games and apps.
Build-wise, the pad feels nice, although the analog stick isn't the equal of one of the big boys and is probably a tad too stiff. The face buttons are responsive and there are even some handy multimedia keys for stuff like volume control, play and pause. The top of the pad features a nice built in telescopic stand which is able to grip smaller (up to about six inches in size) phones in place and will allow you to nestle even a larger unit like a 7" tab into the controller for a comfy gaming experience. There is a built-in lithium battery which can be charged up with the provided USB cable. When fully charged it claims to provide 20 hours of battery life. It certainly didn't ever conk out on me as I sliced and diced my way through Tenchi Wu Kurau II or partied like it was 1991 on a SNES tip.
If I was to level a criticism at the device it would be for relatively poor instructions provided. It took me ages to figure out why the pad kept failing to connect after the very first time I had used it, without completely rebooting my phone or tablet. Eventually I was able to find out (via the magic of the internet) that it was because I hadn't powered down the controller by holding the HOME button. The confusing instructions do not really make this clear.
For the generous pricepoint, however, this is a really cool bit of kit that I had a great time using, and will use a lot in the future. I may not be as au fait with some of the more modern games available on Android, but my kids have been lapping up the Ipega to play their favourites, before surrendering it back so I can hit up my retro stuff. A tasty third party offering, then, but be prepared to turn to Google if you run into any hiccups.