Is there anything more frustrating than waiting for your smartphone to charge? Have you ever been in a situation where you get cut off mid-call or you lose your progress from the latest game you have downloaded to your mobile device all simply because your battery has died? And if things couldn't get worse you then have to hunt for your charger, plug it in and sit waiting all those agonising minutes before there is even enough juice just so that you can switch your phone on again.
It may be such a trivial matter in the big scheme of things but unfortunately we do live in an impatient world where we must have it right here and right now and are constantly aggravated by even the possibility of having to wait. Thankfully Israeli company Store Dot is looking to revolutionise the way in which we power our devices by using bio-organic nano-crystal technology to help fully charge our smartphones and tablets in an impressive 30 seconds.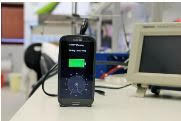 Sadly the technology is still quite a way off from hitting the high streets. It's still in prototype and test mode currently and the company won't be expecting it to be ready until the latter half of 2016. The battery still hasn't quite yet hit its full capacity expectations and it's reportedly no where near a suitable size to even fit comfortably into a handset. Fortunately Store Dot will be looking to pump $6.25 million of investment into the development of the product so within a couple of years we should see the vastly new and improved piece of technology that will hopefully transform the way we in which we charge our devices.
But even though the final product is still quite a way off we can still daydream about the endless possibilities, particularly for hardcore mobile gamers, that this latest innovation will have for all smartphone owners. It can go a long way in helping to improve our day to day lives. But as mentioned gamers will be able to play their favourite games for longer knowing that even though it may be a terrific drain on the battery life they'll be able to recharge in a mere fraction of the time. So if you're in the process of a casino signup or racing for your life playing Need For Speed: Most Wanted then you most definitely will want to swiftly jump back into the action in less time than it takes to boil a kettle.
And of you're in a rush then completing a full charge in just half a minute will be a real boost. Especially if by lunchtime you usually have only about 10% left leaving you to sparingly use your phone for the rest of the day.