I built my PC back in January of 2012, and since then almost every aspect of it has seen some sort of upgrade – with the exception of my £18 unbranded keyboard from Maplin. It had a nice palm rest and extra grips on WASD, but other than that was incredibly basic. Oh, and it had an infuriating power button just above F9, which caught me out multiple times when Dota-ing. But I loved that thing; we'd been through thick and thin, and it was the only accessory that had been with me throughout my entire PC gaming life (and all 600+ hours on Dota). I thought it irreplaceable. That was until I plugged in the SteelSeries Apex M800.
Within ten minutes I decided I could never go back.
Needless to say my Maplin keyboard was not mechanical, whereas the M800 most definitely is. SteelSeries claim it's the fastest mechanical keyboard in existence and I have found no reason to disagree with them. There has been no input lag, all the button presses are recognised and the keys have a nice click to them when pressed. While being the fastest keyboard in the world probably won't improve my poor game skills, for those of you competing at a professional level those extra few milliseconds could be very useful.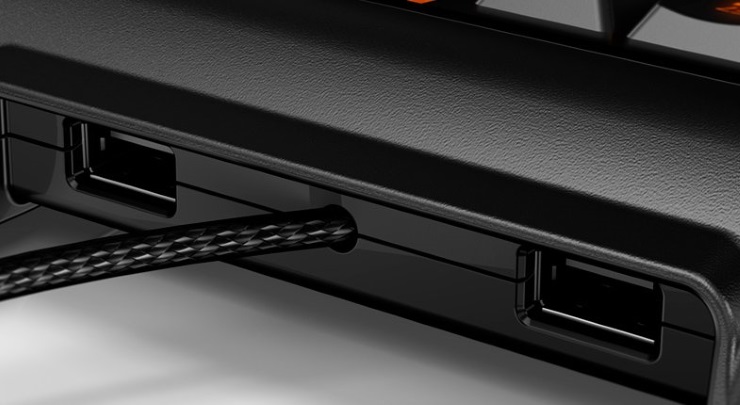 The keys themselves are generally fairly easily to push down, yet it's rare that a press is registered if you just brush it. It does happen occasionally, especially if you're trying to speed type at a stupid pace, but generally it isn't an issue. The letter keys are fairly close together despite the keyboard's massive length, although that mainly comes from the excess unused space on either side and between the different areas.
The standard key-set is here along with a full number pad on the right. A SteelSeries button replaces the traditional right-hand side Windows button, which can be used to freeze the other Windows button or use the alternate functionality on F5 through F12. Speaking of the Windows button, for those of you using a Mac, a command and two Mac alt keys are also included. Elsewhere, the spacebar is significantly larger than the standard design, which is something I prefer, and the W key has two small bumps to help you locate it during gameplay, if somehow you manage to lose it.
Each of the keys features its own centred LED back light that illuminates the keyboard. Using the SteelSeries software you can change the colour options, from an outrageous American flag scheme through to more subtle button-press-dependent options.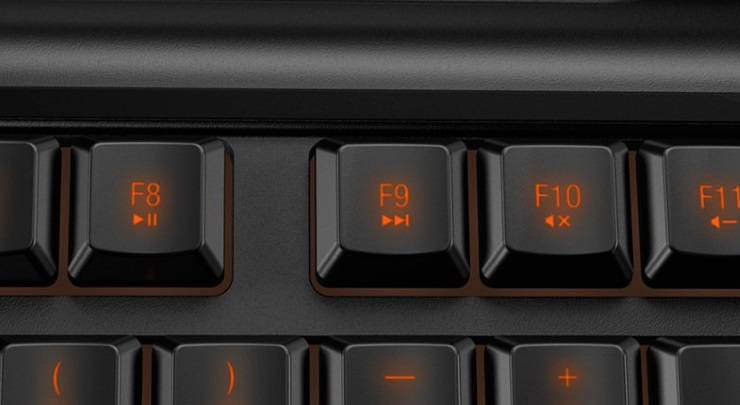 It's fairly easy to programme the 6 extra macro buttons on the left hand side. Setting these to have functions such as one button copy, paste or again game specific functions is relatively easy and generally makes you more efficient. The macro buttons are the main cause of the very wide design, with a good two inches allotted to them on the left hand side. The length and thick base make this a weighty accessory, but one that doesn't move around a lot. A separate set of rubber grips can be used to raise the angle, and it also turns out that there are two USB ports on the back, which I only just noticed.
As with any new keyboard it takes a while to get used to how it feels, but having used it for a little over a month it's safe to say that this has greatly improved my overall typing speed. The easy-to-press keys combined with the general layout have certainly made me more efficient in the typing department, and have reduced the amount of typos in my work. But I don't think the increase in efficiency quite warrants the price tag. Right now if you shop around you should get one for around £150, but that seems like a lot to pay for a keyboard that ultimately does the same thing as my old £18 option. Sure, this has extra features and has made my PC use a lot more pleasant, but it's still a bit steep.
Ultimately, if you can afford it you can't go wrong with the Apex M800. Everything about it exudes class and high quality, and some of the gimmicky features can actually be useful. For the pro gamers it could become the device of choice, but for those of us less skilled there are sure to be cheaper alternatives that perform just as well.