KOEI TECMO have unveiled the in-game content players will have access to if they pre-order their new IP, Nights of Azure.
Gust-Chan, a brand new supporting character, will be unlocked in game if pre-ordered.Unlike other supporting characters in Nights of Azure, players can use Gust-Chan in battle. Pre-ordering Nights of Azure from various U.S. retailers will also yield players a custom PlayStation 4 theme based on Gust-Chan. Those who pre-order from Best Buy will receive two custom PlayStation 4 themes based on Nights of Azure.
These pre-order bonuses will also be available in Europe, with GAME and the PlayStation Store (early purchases) offering Gust-Chan and a custom themed based on Gust-Chan. Amazon and various independent retailers via CentreSoft will offer two custom themes based on the artwork of Nights of Azure. (Thanks, Gematsu)
A European limited edition was also announced, published by NIS America and is available on their online store. The limited edition features a limited edition tuck-flap box, 57″x20″ cloth poster, hardcover art book, soundtrack, and 5″x7″ mini art prints (5 sets).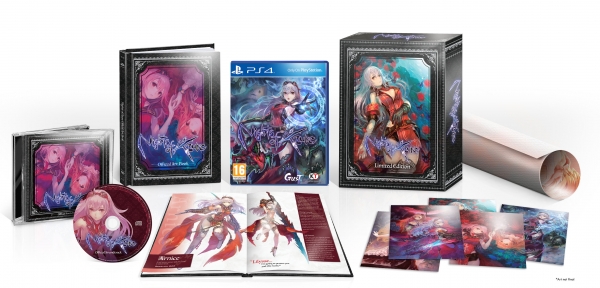 KOEI TECMO also described the character progression system present in Nights of Azure: "When she isn't fending off shadowy shapes and demonic dragons on the streets of Ruswal, Arnice takes solace in a local hotel to rest, trade, and prepare for the inevitable coming of the next night."
"At the Hotel, Arnice can buy and sell weapons and a variety of gear to aid her in battle and, after certain quests have been completed, she can trade with Lloyd, the merchant, and order rare and powerful items. Arnice can also pick up quests from the Hotel's proprietor, Simon, to earn money and various items, as well as gain interesting insight into the lore and backstory of Nights of Azure. Furthermore, Arnice can gain entry to the Arena via the Hotel, which can be used to hone her skills and earn special rewards!"
Nights of Azure is due for release on PS4 on March 29 in the U.S., with a European release landing on April 1. See the pre-order trailer below.