It's no great surprise that id and Bethesda's DOOM reboot is a somewhat loud game. Filled from end to end with the screams of the dead, the reverb of assault rifles, the wet, meaty pops of exploded heads, the torrential rain spatterings of gore and viscera and the growls of Hell's minions, it's a brutal experience that needs to be played in the dark with the phones dialled up to brain-aching levels. Thanks to a partnership with tech giants Thrustmaster, there's now a headset that does DOOM's full aural assault true justice.
The 350X 7.1 Powered headset isn't the most powerful or most sophisticated around, but it has a handful of features straight out of the box that make it very easy to recommend if you want high-end performance for a more affordable price.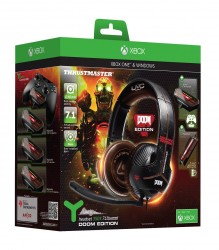 A 3.5mm jack allows you to use it with pretty much any device you're likely to own, but it comes with a volume control box that plugs directly into the Xbox One controller that allows you to easily adjust bass levels or audio and chat volumes. It also comes packaged with a chargeable power pack that will preserve your control let's battery life for quite a while.
If you like to chat a lot when you game, the 350X has one of the better systems in place to eliminate mic feedback, and balance chat and microphone levels. While the box boasts "true 60mm drivers", I didn't notice a particularly high quality when compared to, say, the Turtle Beach Earforce 500X, but it is crystal-clear nonetheless. Playing a game like DOOM is incredibly immersive thanks to the 7.1 surround sound, and when the action is at its most frantic you're still getting a superb balance between booming sound effects, dialogue and metal-flavoured background music.
They're also pretty stylish, too. The physical design isn't the most comfortable, but the brown leather cups and the emblazoned UAC and DOOM logos ensure that they look the business. They don't sit on my melon-shaped head as snugly as some other headsets I've used, and they ain't light, but the memory foam inner lining means that even with prolonged use you won't feel sweaty or constricted.
Going for just under £100 on Amazon right now, the 350X DOOM Edition isn't exactly a budget buy, but nor is it the most expensive headset available, and its suite of features and unique licensed design make it a very attractive prospect for the price. Absolutely recommended.
Sample provided by manufacturer.
If you're buying this, support us by using this link: