Considering Clash Royale's immense success it wouldn't be long before other people tried to emulate the addictive formula that Supercell managed to create. Smite developer Hi-Rez studios announced Smite Rivals, which recently got delayed, so BNA Studios are here with their take for PC. Here's why Brawl of ages could be better than Supercell's juggernaut.
All cards are the same level
There's no levelling of cards here; once you have a card, that is it, it's yours and it'll always be the same level as the one your opponent is using. No more worrying about the fact that what's coming at you is stronger, they're all the same, making for a much fairer playing field. Duplicate cards are traded for in game currency so your cards not levelling up isn't wasted.
No waiting around
A big problem in Clash Royale was the lack of chest slots; you only ever had space for four with the lowest ranked chest taking three hours to open and the highest taking a whopping twenty-four. Here there is no such thing, and taking out opposition towers gives you seals which can then be used to pay for spins on the Big Brawls Board (think roulette), where you'll spin to receive a prize out of a selection of fourteen.
More reason to play
With no full chest slots to obstruct you from a reward, you're free to carry on playing to get seals so you can spin more often and get more cards. You'll not spend your time waiting for a chest to unlock so you can refill a slot – just jump back in, get a few more seals and spin the board again.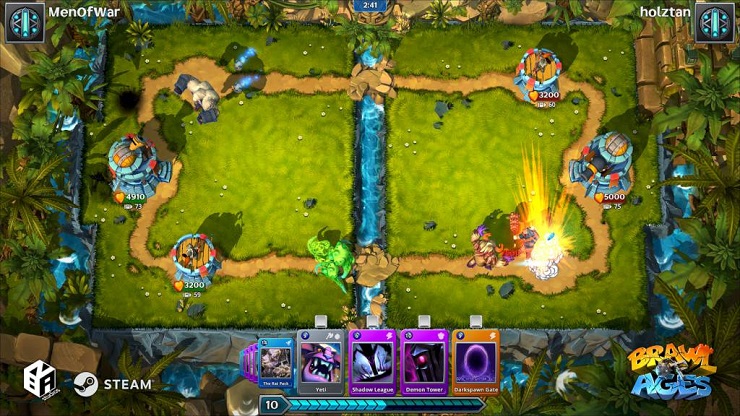 No pay to win formula
With all cards sticking to a single base level there's not one card that cannot fall to another, so instead of raw numbers winning the day it's down to the skill of the players to ensure victory. Granted you can pay money to get a bigger selection of cards, but without the skill to play them you won't get far.
Playing with friends
You can get your buddies together and create a room for up to seven players, one game happens at a time with the other players spectating with full voice support so you can continue the banter during the match.
Bigger numbers….where it counts
Deck size and mana pools are larger in Brawl of Ages. You'll use ten-card decks with a twenty point mana pool giving you more flexibility than eight cards with ten points to play with.
It's only in early access, but Brawl of Ages is shaping up to give players everything Clash Royale does without any of the irritation. The UI is busy, but simple enough to navigate around, and in battle it looks nice without being too strenuous meaning that everyone should have a decent frame rate to play with. Don't be put off by the sideways view either, this is to take advantage of the real-estate that PC screens offer; if it displeases you then you can switch to a Clash Royale style top down view, but this means that much of your screen then goes to waste, but, hey, the option is there.
You can grab Brawl of Ages off of Steam right now.