The world needs to know more about what's happening in the virtual world, as its surpassed everything we've ever seen before. Right now, Esports games get more watch-time, viewers, and attraction than the Superbowl itself. It's a real force to be reckoned with as you have Esports players making themselves millions of dollars a year playing video games. And if that's not crazy enough for you, then you should probably know that 2018's Defense of the Alliance 2 (DotA 2) tournament's prize pool was $25 million dollars.
Esports has grown so much in such a short amount of time, making it one of the fastest growing industries in the world. The more you delve into the depths of the gaming community, the more you'd need to know about what Esports really does, and this article is here to serve that very purpose.
Here are the 5 things you should know about Esports:
1.   It's Way More Popular Than You Think
As previously mentioned, Esports tournaments get more views than most of the regular sports matches out there these days. With 56 million views on the Counterstrike: Global offensive (CS:GO) final, 55 million on the DotA 2 final and a whopping 100 million total views on the League of Legends final, it's no joke when they say that Esports is really popular right now. It continues to increase in popularity every single year, as it trumps its previous records endlessly. Gathering those numbers requires a serious interest from the fan-base in the Esports scene, as those numbers are mind-blowing huge. If you thought that it was just a bunch of 12-year-olds watching, you're going to be really surprised to find people of all ages interested and invested in watching these matches, exactly like when you see people watching matches of the regular sports. It brings people together from every part of the world, watching on their screens at home, supporting their favorite teams/players as they compete for the first place.
2.   It Pays A LOT
With an industry that big, it's no surprise when you find out that these Esports athletes get paid in 6-7 digits yearly. Depending on whether or not you win, you can either earn hundreds of thousands of dollars in a single tournament or walk away with nothing but the money from your contract. With $22.47 million total potential winnings from tournaments from CS:GO alone in 2018, you could tell that competing for those prize pools is not a waste of time. While high skill is also required in order to be able to reach a point where you can compete, it doesn't mean that there aren't many unofficial tournaments happening on a daily basis at multiple venues for gamers. There are a lot of amateur level spots to compete in and earn a mediocre amount (in comparison to the millions from the official tournaments). Esports seems to stem out of just big tournaments into small tournaments held all over the globe too.
3.   It's As Intense As Regular Sports
With players practicing passionately all year round, Esports is pretty much considered to be as intense as official sports these days. It sounds ridiculous to someone who doesn't know much about how the games work, but if you do, you'll realize that it takes great skill, intelligence, and practice to be able to do what these players are capable of doing. There's a reason that they're called 'Talents' and not just 'players'. It's an extremely competitive sport that takes a lot of commitment in order to succeed. Players spend thousands of hours honing their skills before they're taken and signed into professional teams. That amount of effort is no joke, as it is incredible how much time they put into it as it becomes an activity that they do in addition to their jobs and on their free time.
4.   If There are predictions, There's Gambling
Much like regular sports, the matches played between teams could go each and every different way. When it comes to unpredicted results in sports, people will always try to guess the results. Whether it is how many goals scored or who's going to win the match, it remains the same as it all falls under predicting what's going to happen. That's where people start betting on what's going to happen on many different websites. You can bet on every single thing that happens in these games now, even experts at Vulkanbet Esports say that "You can bet on outrights, match winners, kill streaks, odds/evens, maps, types of goals, and many more as the action unfolds through live broadcasting." The online gambling usually occurs with live feed through streams on twitch, the online streaming platform, in order to broadcast and announce the results of several bets as you watch the games. The options are endless at this point.
5.   It's An Entire Community
The online gaming community stands millions strong, it's an entire culture in itself that's deeply rooted in funny moments, competitiveness, and the unifying love that the players have for the game. Enhancing the understanding that you have in the game and spending your time improving are the basis of this community as there's always the desire to be the best. Understanding what goes into gaming takes so much more than just reading about it, as you'd have to interact with the community itself to understand how it's like within the game and within the discussion forums. You can find all the information that you need to know about the recent events of any of those games on the multiple places that the community gathers to discuss what they feel about the changes happening to the game with each other. From talking on Reddit to talking on Discord, nothing goes by that is left unspoken.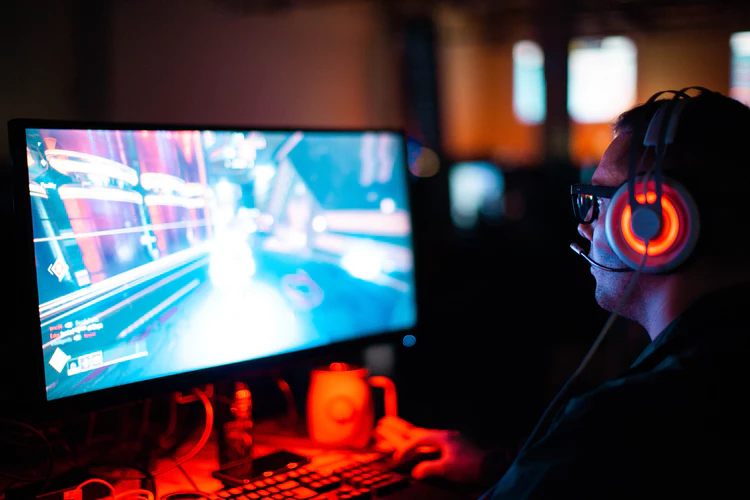 Esports is The New Virtual Thrill
You can visit a football stadium during a match and witness an energy that's hard to compare to anything else, and you can witness an Esports stadium during an intense game and find an energy so different yet so similar. The energy you find during the games played is so intense that you can feel the players and the crowd all as focused on the game as each other. However, when it comes to cheering, participating, and enjoying the games though; you'll find that it's universal, whether it's in sports or Esports.