Playing video games has always been a popular way to relax and forget about your current problems. You get an opportunity to dive into another reality, solve problems like a pro, and have a rest. However, most parents are afraid that their kids will turn into zombies because they spend more time playing video games than reading and studying. That's why they set limits on video games and only allow their kids to play when they finish homework or get excellent grades. If your child is obsessed with video games, it's a nice problem solution. 
Even though it can be a wrong choice to try to complete another mission before an exam, scholars and students can actually benefit from gaming. So keep reading our article to find out how video games can help you study.
1. You learn to analyze information and solve problems
Recent studies show that video games have a positive effect on brain function, which is a justified conclusion given that many games involve building strategies, solving problems, creating new concepts, and using clues to get from one level to another. A player has to analyze a situation and predict possible outcomes. For example, SimCity requires players to build cities, expand their territories, and create an infrastructure to provide citizens with everything they need. The development of a city and its prosperity will depend on your decisions, so it's necessary to think twice before pressing any button. SimCity teaches players to think critically, as well as plan and solve problems effectively. 
2. Video games improve attention and concentration
Gaming can help you improve selective attention, which means that you get to learn how to miss unimportant details and concentrate on things that really matter. Since most games are fast-paced, players have to focus on a problem and bear it in their minds. In fact, video games are often used to help patients suffering from attention disorders. Notably, students also fall into this category oftentimes. If that's your story and you need an urgent paper which is due in a few days, an essay writer who knows their onions can give a helping hand on this one. 
3. Video games help you learn new information
Many educational games are based on real historical events and different fields of human activity. You might want to find out more information about the period mentioned in a game, its historical and cultural context, etc. Besides, there are many educational games for students on the market, so you can learn something new and have fun at the same time. The following video games can become your favorite ones:
Learn Japanese to Survive! Hiragana Battle.

Age of Empires II.

Never Alone (Kisima Ingitchuna)

Endless Ocean.

Type: Ruder.

Poly Bridge.
4.  Gaming prepares players for group projects
Online games often involve communication with other players and group activities. Gamers have to make decisions together to achieve the desired results, so there's no doubt video games help improve communication skills. A player learns to deal with different personalities, accept other users' opinions, and explain their ideas. Cooperative video games help students to be more engaged while studying in a classroom and learn something new from their classmates.
5. Video games can help relieve stress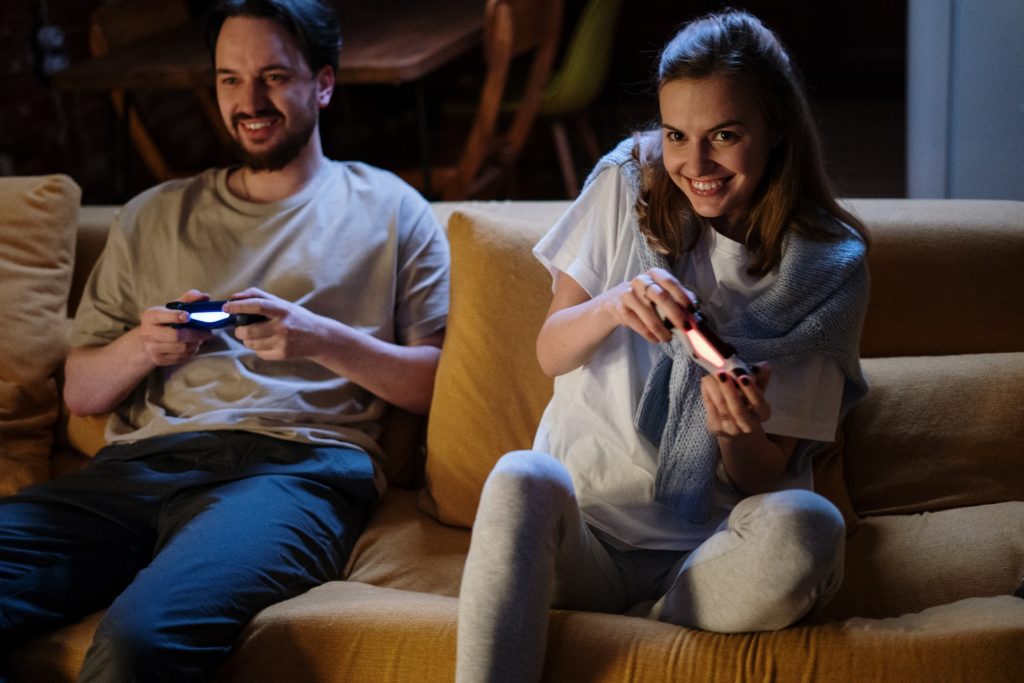 As a student, you may feel exhausted after a hard day at college. To refocus and let it go, you can play your favorite video game. Your worries and disturbing thoughts will be left behind because you'll dive into another reality. You'll have to focus on a game and solve problems that aren't connected with your life. 
6. Video games expand imagination
You don't have an opportunity to visit a space station or shoot monsters in real life, but you can turn on a playstation and get to a new world right now. Video games make you feel as if you're a part of your character's world. You can view beautiful landscapes, meet fantastic creatures, and get a superpower. Video games stimulate your imagination and thus make you think outside the box. 
A fictional situation or character can even help you generate creative ideas for your papers. Your professor will be definitely impressed by your approach. However, if you want to be sure that your idea will be presented perfectly, you can ask for professional writing help. Describe your idea to an experienced writer, and they'll write a meaningful essay for you. Besides, you can use essay writer free options, such as a title page and revisions.
Bottom Line
As you can see, video games can be beneficial for students in many respects. Gaming helps analyze information, solve problems, improve attention and concentration, and develop imagination. Besides, educational games help us combine relaxation and learning. However, it's necessary to be careful with the time you spend in front of a monitor while playing. It will be a pity if you fail to pass your exams just because you prefer to play video games rather than study.