Gambling is an old and popular pastime that people worldwide have been enjoying for thousands of years. With the advent of the internet, online gambling has become a convenient solution chosen by numerous players in North America and overseas. And now that most people have a smartphone, online gambling is more popular than ever before. Although for various reasons, online gambling is not permitted in all states and, in some cases (like Florida), online gambling is not permitted or partly not permitted. However, some states do not allow online gambling but do allow brick-and-mortar gambling venues such as a racing track, a betting hub, a bingo center etc.
Background overview
The need to regulate gambling, and online gambling specifically, in Florida has been a pressing matter for a while now, and especially in the past two to 4 years , with the complicity of the invalidation, by the supreme court, of a federal law that had banned sports betting in most states (in 2018) and also the complicity of the outbreak of the pandemic in 2020.
What is legal and what is not.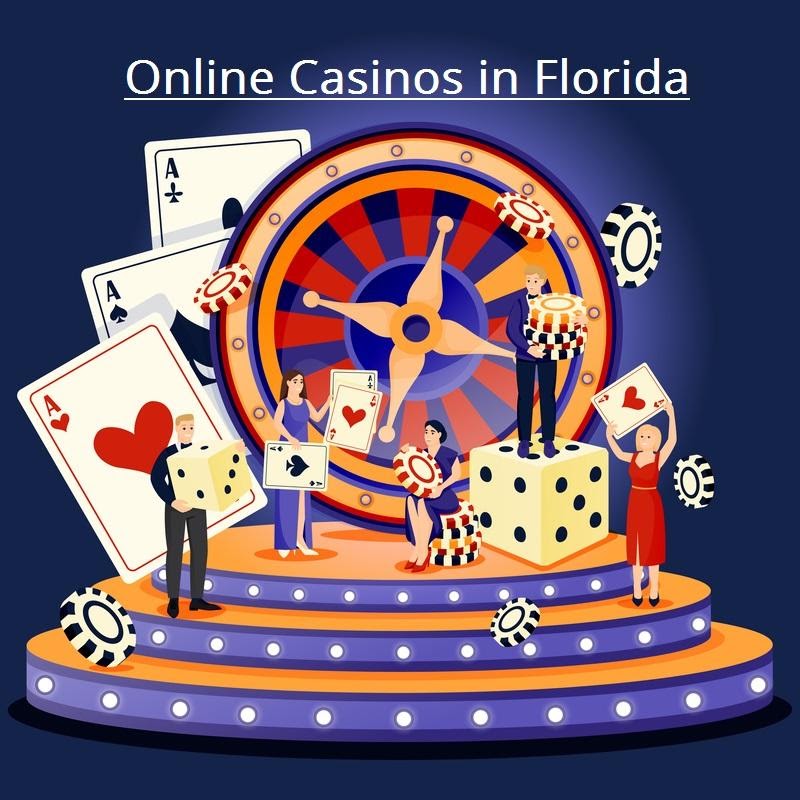 Online casino gambling is not legal in Florida. To be more precise, gambling websites are illegal in Florida, but, on the other hand, no law prohibits people from Florida or located in Florida from playing at online casinos or gambling portals whose operators are located outside of the country. Consequently, it is possible to turn to the many operators who are located abroad, considering that many of them accept Floridian and US players in general, despite the entry into force of the Unlawful Internet Gambling Enforcement Act (UIGEA) in 2006.
Alongside this option, Florida players can always legally play all sorts of gambling games and casino games that are free, which means that the games are played using free coins or tokens, and there is no real money win. Many gaming portals offer plenty of games of this sort. Some of the most popular operators are WinStar, Chumba and Luckyland. They all offer the most popular games like poker, baccarat, bingo, scraps, slots, blackjack etc., and they also feature live-dealer versions and video versions of some of these games. This means that it is possible to play video poker, for instance, without betting actual money, as a free-of-risk game itself or in order to improve your skills and step up your game in view of playing on a real table. And you can do this legally from Florida.
One form of online gambling that is permitted in Florida is pari-mutuel The betting operations are carried out through advance deposit wagering, a service that is performed by platforms like TwinSpires or TGV.
The complexity of legalizing online gambling and online casino games
Will Florida legalize online casino games? This is a tough question, so we asked onlinecasinos.net that are experts in online casinos; they run a 20-year-old Canadian and international online casino guide. Onlinecasinos.net told us online gambling is really a "train that can't be stopped," Therefore, more-more states, countries are legalizing online casinos. Right now, in Florida, billions of dollars from Floridan gamblers are going to illegal operators running unsafe websites abroad. The players play anyway, so states have started to realize why not legalize and tax the sites. The money stays in the state, and gambling sites become safer and more responsible; it's a win-win situation for the states and players.
Even though, the voices claiming for legalization have become louder and louder in the past few years, several obstacles hinder the legalization process.
Let us start by saying that legalizing online gambling will mean finding an ultimate solution to the complex and protracted problem regarding the Seminole Tribe, which was given near-exclusive rights on gambling in a compact signed in 2010. The rights were assigned in exchange of a payment of near 350 million dollars a year, and in 2019 the Seminole started withholding the payments as a consequence of a dispute regarding the decision of some facilities who do not belong to the Tribe to offer gaming options that, according to the Seminole violates the gambling rights compact.
A second major matter is the 2018 constitutional amendment, approved by Florida voters, according to which a casino gambling expansion in the state can only take place after Floridians express their consent through a voting process.
Also, we need to consider that one of the strongest advocates of pursuing the ban is Richard Scott, Governor of Florida. His position was widely criticized, though, and it still is. One of the reasons for this criticism is the wide participation in the casino industry of one of the Governor's biggest supporters and donors caused many eyebrows to rise among the interested and the parties at play.
Land-based Casinos
Gambling broke out in Florida in the early 1930s, and it used to make up for annual revenue of nearly 2 billion dollars, if we do not count the past couple years. On Florida land operate eight tribal casinos, two commercial casinos and 25 racetracks that offer betting and casino services, and they are all regulated by the Florida Department of Business and Professional Regulation, Division of Pari-Mutuel Wagering.
The tribal casinos offer slot machines, video poker, blackjack and baccarat and a little more. Games like craps or roulette are not permitted. Alongside these activities, we have to mention the national lottery, which is the third biggest in the US.
For the sake of completeness, we also remember that it was common in Florida to organize gambling cruises from Miami into international waters to get around the regulations, but only previous to 2016, when a new bun stopped this activity.
Social gambling is also permitted, but with strong restrictions: the the venue where the gambling takes place must be owned or rented by one of the participants, and the maximum per-person win allowed is $10.
Pros and Cons of Online Gambling
Is online gambling necessary? Can't players just be satisfied with gambling in a brick-and-mortar venue? Isn't the addictive risk of gambling greater for people who play online? These are the questions that always circle around. Let us make a pros and cons comparison list to give you an overview of the matter.  
Pros of online gambling
 

Convenient

and comfortable gaming.
The greatest thing about online gambling is that it is very convenient, as you don't have to move to a physical venue in order to play and, especially with gambling Apps, you can play quite literally anytime you want.
 

Betting

and Gaming options.
Online, you can access the same gaming options offered in a physical casino and many more games not available in a brick-and-mortar casino. The possibilities are much broader, and you can take all the time to go through them, understand the rules and play free before playing for real money.
When you play online, you play in a way that is detached and anonymous for a good part.
On average, online casinos offer many more bonuses and rewards to the players, such as welcome offers, bring-a-friend bonuses, and daily rewards.
Cons of online gambling
Risk

of illegitimate operators.
Brick-and-mortar venues are highly controlled, while online it is much more likely to fall into playing on a portal that is not legit or to get scammed in other ways.
Especially when approaching a new game, some people prefer to have the rules explained rather than read through them on their own.
There is a timing for everything in the online world, including when you can play, cash out or withdraw your funds. It can take time to withdrawal your winnings.  
Many studies report how much and why online gambling has a higher addictive risk
than gambling the old-fashioned way. The main reason is clearly the availability of the source of addiction.
The role of the pandemic
The outbreak of the Covid-19 pandemic in 2020 and the consequent the restriction had an impact on gambling that is easy to understand: not being able to reach their usual brick-and-mortar gambling venue, millions of players have turned to online gambling is the obvious solution to the problem. Florida players, though, given the situation that we just summarized, they found themselves in an uncomfortable spot in which they were left with no 100%-legit and safe options to gamble, as tribal casinos and racing stopped being an alternative.
The outbreak also caused the Seminole Tribe legislators to, in a certain sense, change sides and start pushing for the signing of a sports betting agreement in order to allow online casinos and try to save the industry from the downfall of the past couple of years.
The pandemic has made evident all the matters that pro-online-casino voters and legislators have been describing for years and gave a major push to a legalization process that has already started in many other states across the country.
Why should online gambling be legal in Florida?
We have already gone through the pros and cons of online gambling from a player's viewpoint, but there are still many more things to bring into the picture, starting with the impact on the whole sector of the economy in which the industry operates.
As we said before, gambling operations in Florida are worth around $2 billion, but the industry is facing a downward spiral that brought that number to decrease to just a little more than $500 million in 2020. The sector is experiencing a severe crisis and the earnings expected from an eventual legalization of online gambling is an appealing perspective that could save that whole area of the economy.
It is estimated that legalizing online casinos and online gambling operators in 2021 could bring Florida $500 million in taxes by the end of 2022 and around $700 for the following years.
Legalizing online casinos in Florida: pros and cons
Let us now present you with a quick pros and cons comparison in regard to the
possible legalization of online gambling in Florida, in which we will add some considerations that are specifically about Florida and the present time to the ones we have explained before.
The main pros:
This point is the one that people usually stress the most because it affects all the people involved in the industry and not just regular players. Also, it is the reason why the Seminole Tribe
representatives are now pushing for reform.
Preventing

the spread of illegal gambling websites.
Legalization is always the most effective way to get control over the illegitimate alternatives of a service and the people who offer it. It is the best way to grant greater safety for the players and, at the same time, cut a source of income for illegal activities and while supporting tax-paying legal
activities. Also, consider that illegal website that provide this service have been popular in Florida since the advent of the first internet cafes, and have a required massive intervention of the police forces on more than one occasion over the past 20 years.
Makes

for easier payments that are secure.
The choice of payment methods is one of the problems that also afflict the current situation and legislation. Making a deposit directly from your bank account can be tricky in the current situation. A new set of regulations could allow access to online casinos that accept credit cards and cryptocurrencies.
Allow

easy access to online sports betting.
Online sports betting is not permitted in Florida, just like online casinos. Several attempts were made to legalize online sports betting in Florida, most recently with the introduction of the bill SB 968 in 2019. A new set of rules would solve this protracted issue as well.
The main cons:
The personal interests (including the Seminole Tribe's) of all the parties at play prevent the legalization process from taking place so far. Steps forward have been made, but this is still the number-one
source of the hindrance.
Another negative aspect in legalizing online gambling in Florida is the concerns that we went through before above when analyzing the overall downsides of online gambling.
When dealing with interventions on past laws, and especially when we are talking about a legalization process, there always seem to be more pressing matters for politicians and bureaucrats to work on. Of course, there is always some truth in this, but it is too often taken up as a disgraceful excuse to avoid facing the matter. 
Latest News just when this article was finish:
Florida officials announced a signed deal with Florida Gov. Ron DeSantis and the Seminole Tribe of Florida to allow legalizes statewide sports betting, as well as retail sportsbooks. So get ready for sports betting in Florida.