Aviator has taken the online casino world by storm since its inception in 2019. Created by Spribe, it revolutionized the gambling space with an innovative approach. As a result, it continues to win popularity worldwide, with hundreds of gambling companies adding this title to their portfolio.
Let's Talk About Spribe
Spribe has been a rising entertainment developer since it launched in 2018. The studio often offers new releases while collaborating with the best online casinos worldwide. Slots, crash games, and poker are among the most prominent and well-liked offerings.
Spribe Games
Are you looking for a unique gambling experience and lucrative rewards? Spribe offers many excellent options for each taste and budget. You can enjoy engaging gameplay and intriguing features regardless of your skills and experience. But, you might wonder what activities are the most popular. Check the following categories to find the perfect solution:
Progressive slots. Gamblers looking for fantastic jackpots will be excited to discover the most innovative titles that provide high-winning chances. Additionally, thrilling gameplay and lucrative jackpots will engage you in no time!

Crash Games. The fans of thrills and adrenaline will appreciate this category, which brings significant winnings. Thus, explore many original titles if you're tired of conventional activities and want to discover something different.

Poker games. The company highly focuses on user experience and brings novelty to traditional gambling. Thanks to the outstanding features and engaging chat rooms, you will play for hours.
Since the developer's portfolio is versatile, gamblers can choose from many genres. Additionally, playing mechanics and unique features are excellent! Specifically, you may customize it to your preferences, interact with other customers, monitor the gameplay in real time, etc.
What is The Aviator Game?
Aviator is a new type of multiplayer social game with a rising curve that can crash anytime. Do you want to know more? Let's dive into its central principle. The rules are straightforward: players bet on the outcome of an airplane flight. When the round starts, a multiplier scale begins to grow. The longer the aircraft remains in the air, the higher the potential winnings. Finally, gamblers should collect their earnings before the lucky plane flies away.
Aviator differs from a regular slot machine since it doesn't have standard bonus features. Alternatively, there are many social elements and fantastic tournaments. But what are the main characteristics that increase gambling pleasure? Let's see:
In-game chat. Gamblers can communicate with each other and exchange their experiences. This feature enhances the excitement since it allows for social interaction and placing bets in real-time.

Automatic withdrawal. You can cash out more efficiently using artificial intelligence. The game will automatically do it at the multiplier you choose.

Live Bets. The in-game statistics show the wagers and winnings of other players. It is beneficial to use this knowledge to enhance your betting tactics.

Demo Mode. The Fun Mode allows users to try the game without depositing real money. It offers real gambling excitement, experimenting with different techniques and learning the rules without risks.
The game ensures that players experience the thrill of a genuine casino combined with cutting-edge features. Thanks to them, more and more gamblers are playing this activity daily. Thus, Aviator is the next generation of gaming, whose success speaks for itself.
Best Game of 2022 by SiGMA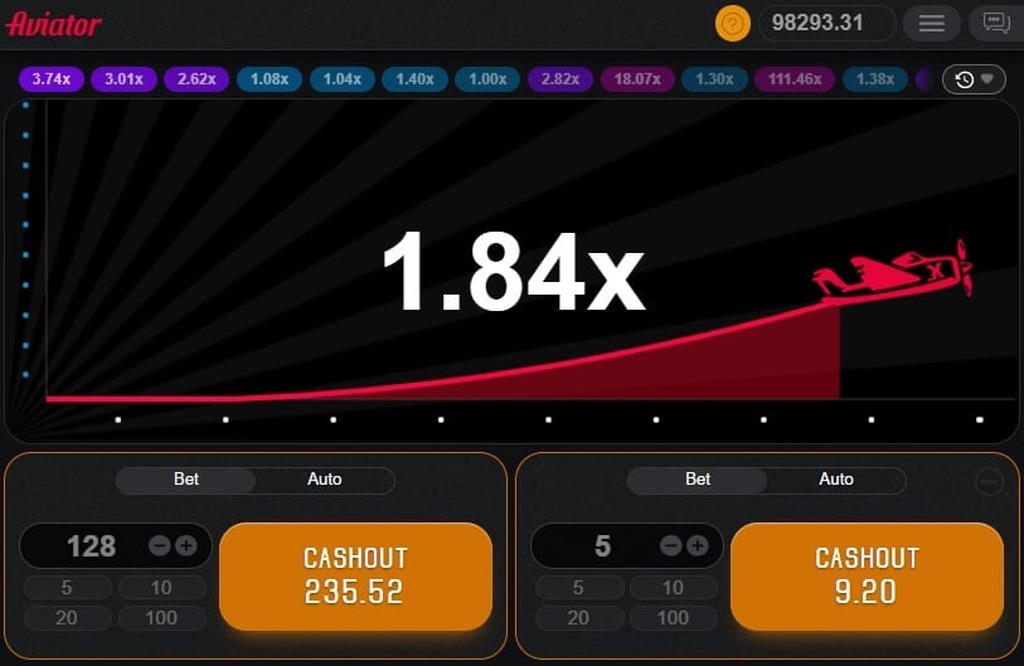 Guess which title clinched the best crash game on a grand gala night? The answer is obvious: Aviator. In 2022, SiGMA, the most reliable gambling regulator, recognized the TOP businesses and leaders in the iGaming sector. As a result, Spribe celebrated an achievement among other companies renowned for their innovative approach.
A Short History Of The Aviator Expansion
Aviator by Spribe is among the best entertainment activities of recent years. Thanks to its novelty, this title has success in online casinos. Besides, enjoyable gameplay and significant payouts attract more and more gamblers.
Aviator Taking Off In South America
We reached out to the team at Aviators.com.br to learn more about the South America case, and they shared a wealth of fascinating information with us. Spribe has quickly gained the favor of gamblers worldwide and established an excellent reputation in the Brazilian market. Despite the country's ambiguity about online gambling, local customers can enjoy playing the developer's titles at offshore casinos. In addition, the provider cooperates with the TOP operators that comply with the highest security standards.
Many operators compete to host the developer's games thanks to the perfect mix of simplicity, thrilling subject matter, and interactive elements. They can be even more successful in Brazil if the government finally grants licenses internally. Therefore, it's only the beginning of the studio's expansion and warming up before future accomplishments.
Aviator Takes Flight In Africa
The collaboration with Betway, a renowned African-focused operator, has helped the developer reach new heights across the continent. Since gambling is mainly not regulated in the region, using offshore casino sites is a perfect solution. Thus, Betway enjoys big success in the area because it is a fully licensed and reliable platform that offers Spribe's most popular releases.
African players have found the game's social aspect a tremendous advantage. It enhances the sense of community by allowing players to communicate with each other and exchange experiences. Besides, its mobile-friendliness facilitates gameplay and meets modern technological trends.
Aviator Hits 5 Million Monthly Active Players
Aviator claims 5 million active users worldwide monthly. So what do you think about that? The main reasons for this success are the game's high functionality and social elements. In addition, its intuitive interface and mobile-friendliness make it a preferred choice among modern users. Finally, they can enjoy many rounds in each session thanks to the game's fast pace and high scalability.
How Has Aviator Changed The Game Industry?
Premium software developers produce colorful slot machines and unique games with stunning visuals and audio effects. Spribe took a different path by achieving a significant advancement in the online gaming sector. Its activities are gaining the leading market position and player approval thanks to creative and exciting gameplay. 
Released in 2019, Aviator served as the inspiration for cutting-edge crash games that are well-liked by current gamblers. But do you want to know how it works for players? The advantages of the games are speed, excitement, and high winning potential. Additionally, crash activities allow users to personalize their experiences, set auto features, engage with other players, and enjoy the process in real time. 
Are you looking for the best alternatives to Aviator? We recommend you try JetX from SmartSoft Gaming or Spaceman by Pragmatic Play. These popular activities have similar mechanics. Players place their bets and watch the flight. To win, they should be strategic about when to cash out because the multiplier can drop at any time. Besides the adrenaline rush, perfect balance is essential.
Summary
If you are looking for an exciting and innovative gaming experience, Spribe is the perfect choice. With its wide selection of games, customizable features, and high payout potential, it offers something for everyone. Gamblers looking for significant winnings typically select the Aviator. Try it for yourself!