Release Date
November 13, 2014.
Here's the thing: we all know that Mario Kart 8 is a phenomenal game, and a serious contender for game of the year. Nintendo really don't do average when it comes to first-party development, and that attention to detail that makes the games so polished and brilliant, well that's actually something you'd hope for when it comes to DLC, too.
Luckily for us, then, this is a superb package that, in many ways, shows other developers and publishers how to do DLC properly.
On the face of it, sure, it's just some new tracks, characters, and vehicles. But it's the level of detail that make this so special. In Hyrule Circuit, rupees are there instead of coins, and instead of the standard noise you hear when grabbing a power-up, it's tinged with the Zelda chest opening music. And here's the thing, Nintendo didn't have to do that. It could have just been an excellent track (and it is) and people would have been happy. To go the extra distance and make these changes just for the Zelda specific races, that's love for your product. No, that's love for your audience.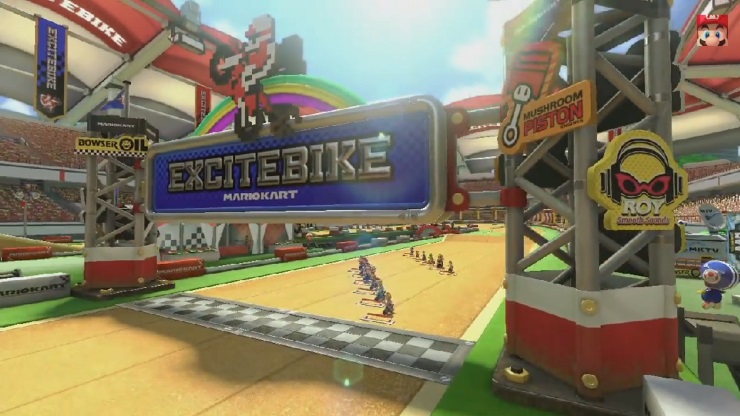 A huge favourite of mine, SNES Rainbow Road finally makes an appearance in the Triforce Cup, and it's as glorious as I had hoped for. That's three rainbow road courses now in Mario Kart 8, which is fantastic and daft all at the same time. Elsewhere, the Excitebike Arena looks brilliant, and plays as you'd expect. It's full of ramps that you can boost on, but it's a fairly straightforward affair. Taking it online can produce moments where shells are flying everywhere and everyone is bouncing all over the place.
Mute City is the F-Zero track, and yet again the attention to detail is jaw-dropping. Run through the health replenishing zone and your vehicle will give off that same effect that F-Zero did all those years ago. It's almost maddening to see Nintendo show F-Zero love here with all its anti-grav glory, and yet not appear to have anything on the horizon. As you'd expect, the tracks in the pack are the highlight and you'll quickly find the one or two you love the most.
Obviously the new characters are likely to please some, and anger others. Link is over-used online (already), and Cat Peach is a bizarre inclusion. Tanooki Mario might feel like a stretch, but that's one of my favourite power-ups, so I'm fine with it. The Yoshi colour-swaps are much of a muchness, and it does seem odd that Nintendo would rather do that than put in other characters that are fan favourites.
The vehicles are visually appealing, but only the hardcore players will care too much about vehicle customisation. The Epona "Master Cycle" bike looks nice, and the Blue Falcon is great too. But what it all boils down is, essentially, this DLC pack is great value for money, but crucially, also gives lapsed players a reason to go back for another round. I hadn't played Mario Kart 8 for a while, and this first downloadable pack is a timely reminder that Nintendo have been continually going quietly about their business making the Wii U the best machines for first-party exclusives.
Review code provided by publisher.
Positives
Incredible attention to detail.
Superb new tracks.
Great value for money.
Negatives
More characters would be nice.
A long wait for pack two.
This is how you do DLC. Superb value for money that truly gives you a reason to revisit one of 2014's best games.