Project CARS is motorsport at its purest. There are no boosts, there's no drifting, no modifying cars with ridiculous spoilers or exhausts – there's just the car, the track and you, and it may be a bold statement, but Project CARS could be one of the finest racers ever made because of it.
On track, it demands that you become at one with the car, intimately knowing its limits and making them your own. The challenge of keeping the car on the track gradually evolves into nailing the perfect racing line through corners, not only staying on the track but going around it quickly. Only then comes the proper racing. When you know what your car can do you can push it to the edge; late braking down the inside of your opponents, trying to take them on the outside before switching back for an undercut, and when you're ahead doing your best to hold onto the racing line.
And you'll need to push it to the edge to win. The AI will attempt their own risky overtakes, and vigorously try to keep you behind, forcing you to take your own risks if you want to get past. Somehow Slightly Mad Studios has made offline opponents feel incredibly realistic. Like you they'll occasionally overcook it into a corner, losing time as they run wide, or muck up a gear change. These tiny chinks in their armour always make you feel like you have a chance. This creates a tense, honest racing experience, with any mistakes you make being your own fault.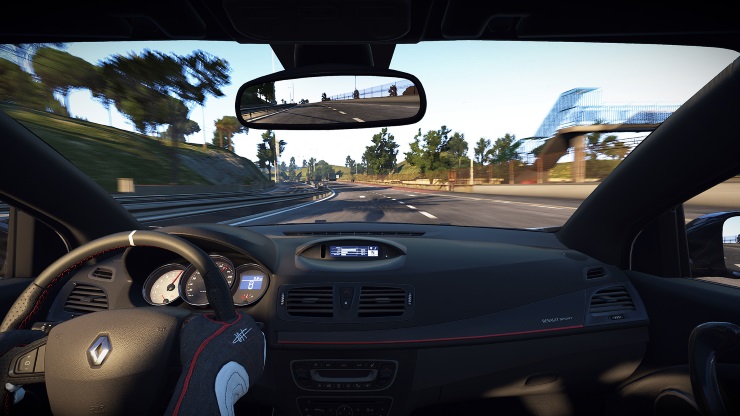 Then there's the rain. In most racing titles the wet stuff will mean a slightly slippy track, at worst all it takes is an F1-style tyre change to sort it out. But not in Project CARS. Treat a wet track like a dry one and you'll be in the wall. Full throttle will only cause wheel spin, braking times need to be adjusted dramatically and you can barely see a thing. The risks are bigger then, but that also means the rewards for getting it right are even greater. As I have said previously, it's reminiscent of the Souls series: one mistake can mean undoing all your good work up to that point, but you'll want to jump straight back in and have another go, and when you do succeed it's that same sense of elation.
Had Slightly Mad created this racing experience in a single racing discipline it would have been impressive, but they have got it spot on in several. Karts, road cars, GT racers, and LMP1 prototypes all handle differently, and require time to adjust to when you jump from one to the other, which you will do frequently in the career mode. Their aim from the start was to let you choose where you begin, so if you want to jump straight in with the GT3 Championship you can. I would definitely recommend starting off with Karting, though, and working your way up through the various tiers. At first you'll only compete in a series of Cups within your chosen discipline, but perform well and you'll get new invitations on your calendar. Nice breaks from competing against the same drivers in the same vehicle, these allow you to test some of the other options available to you, so when the season ends and you get new contract offers in different disciplines you already have a taste of other types of racing.
The races themselves are your normal fare, though some may have practice or qualifying sessions, or have one start position determined by where you finish in the previous race, and you can adjust the length from a handful of laps in a Kart up to a full, real time Le Mans 24 Hour race.
Other game modes are typical of the genre, single race and a randomised quick race equivalent, a time trial mode that puts your control scheme next to your time for the world to see (getting a good time on Nurburgring Nordschleife using a wheel without going off track once in the 13 miles is incredibly difficult it turns out), and multiplayer races that work off a lobby system. There's also changing Community Events that challenge you to get the fastest time on a track with a certain car and in certain conditions. Basically, there's plenty to keep you occupied then.
It would be hard to critique Project CARS without talking about the track roster, not least because it is incredibly impressive. Spa, Imola, Donnington, Laguna Seca, and the Circuit de Catalunya that plays host to this weekend's Spanish GP are all included in the thirty-plus locations and a staggering 110 (or more) variants for you to race across. This is the most comprehensive track list of any recent racer.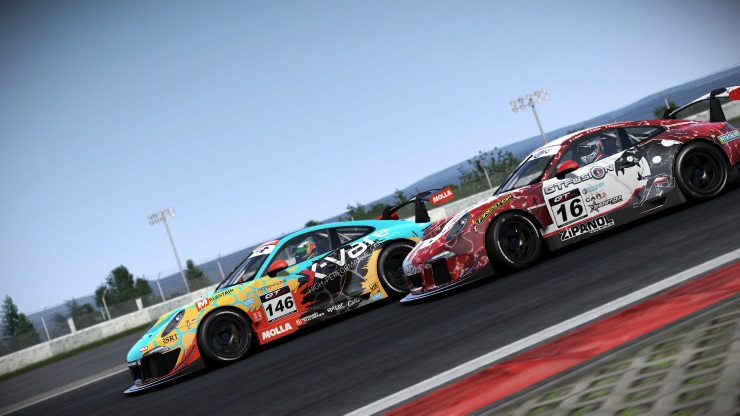 Unfortunately the car roster isn't quite up to the same standard. While there are plenty to play around with, because of the various disciplined there are only a handful in each class, and these are each closely matched. Yes races rely mostly on skill rather than who has the fastest car, but a little more variation would have been appreciated. They look glorious though, as does the entire game. Sometimes, when the sun dapples through the trees as you streak along a track, Project CARS looks fantastic. It's no DriveClub (at least not on PS4), but that doesn't mean it isn't pretty. Rain effects compared to Evolution's game are particularly poor, but strangely they may be more realistic, with blinding spray being thrown into the air. The cars sound spot on, and engine noise has clearly been something Slightly Mad has wanted to perfect, from the high-pitched whine of Karts to the deep grumble of V8s.
Handling works brilliantly on both pad and racing wheel, though I would heartily recommend the latter. Project CARS recognised my wheel straight away when plugged in, and there's a variety of tweaks you can do to get it exactly as you like it. Getting things set up will take a little while, but once you've sorted it Project CARS really is one of the best racing experiences around. Menus could be a little more polished, there's a feeling that they've been optimised for PC rather than console, but that's only a small issue really.
Project CARS won't be for everyone. If Need for Speed Underground or Burnout are your favourite racing games, then a sim like this is probably not for you. But if, like me, you grew up on Gran Turismo, where trying shaving seconds off a lap time is pleasure, then you will love this.
Review code provided by publisher.
Positives
Pure, honest racing.
Excellent handling model.
Fiesty A.I.
Negatives
Could use a little more polish.
Project CARS strips back racing to what it should be: just the car, the track and you.