Release Date
November 14, 2014.
Tetris needs no introduction. If it does, well, I don't know where you could have been these past thirty-odd years. It's the block puzzle game that started a craze, fuelled Nintendo's GameBoy success, and introduced the world to that tune. Tetris Ultimate is designed to bring all the best Tetris iterations and additions under one 3DS Cart shaped roof, bringing the gaming icon back to where it all started: on a little Nintendo crafted screen in the palm of your hands.
Ubisoft Montreal are the guys behind this release of Tetris, with their aim being to provide gamers with a version of Tetris that ticks all the boxes and pushes all the right buttons. There are a total of ten game modes on offer, with four of them being developed "exclusively for 3DS". There are the classic marathon modes (endless), timed (40 lines), and battle modes – which bring power-ups to the table that you will have likely come across before if you have downloaded or picked up any version of Tetris in the last decade. The total number of game modes can pretty much be chopped in half, with five of the modes being a timed or multiplayer version of their twin. So the variation on offer isn't great, and some of the more complicated (and awesome) game modes found in Tetris DS don't make the cut.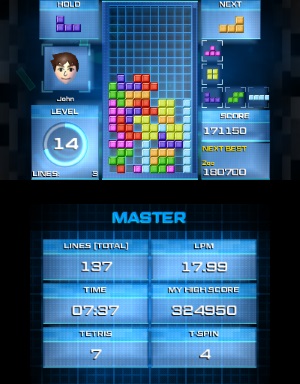 So there isn't much to write home about with regards to the core gameplay. Its Tetris, do I really need to explain it? What I can talk about, however, is my favourite feature of Tetris Ultimate, and that's the multiplayer – specifically the online multiplayer. Tetris Ultimate provides an effortless multiplayer experience, making it easy to find a game and get into the action with another Tetris player. On 3DS, the matchmaking is smooth and waiting times are limited to watching players battle it out as you wait to get into the action. Ubisoft have gone to the effort of integrating Miiverse into the multiplayer, so you will see the Mii's of your opponents and their Nintendo Network ID. The action of your game takes centre stage on the top screen, with your opponent's games on show on the bottom screen. Up to 7 players can battle it out online, with Battleground providing the most enjoyment in my time with Tetris Ultimate. I just love unloading my blocks on other players. Ahem. If you happen to have a friend in possession of a 3DS and a copy of Tetris Ultimate, you can create a local multiplayer game, or find your friend over the Nintendo Network using their Nintendo Network ID.
Visually, Tetris Ultimate on 3DS doesn't have a great deal to show in it's bag of tricks. The 3D effect is put to use to layer the game board on top of some psychedelic displays, made up of Tetriminos, wavy lines and other headache inducing fare. There really isn't any need to have the 3D switched on here, something I keep forgetting as my eye balls dry up and I find myself unable to blink at the end of a long game. If the last Tetris game you bought was the frivolous and lavishly designed Tetris DS, Tetris Ultimate will disappoint in its more functional appearance. The drab visuals are backed by a soundtrack that is as familiar as the Tetriminos themselves, with several variations of the famous Tetris tune in attendance.
Tetris Ultimate is a package that brings a few of the more well-loved Tetris game modes into one tidy package. While it may not feature the same visual flare as some of the Tetris titles it borrows game modes from, there is enough here to make it worth recommending. The excellent multiplayer integration and classic gameplay that just never gets old will be enjoyed by those looking for another Tetris fix.
Review code supplied by publisher.
Positives
Excellent multiplayer options.
Miiverse integration.
Negatives
Lack of game modes.