Mobile Monday – Basketball: Hoops of Glory, The Fancy Pants Adventures, Street Wrestler, iBomber Defense: Pacific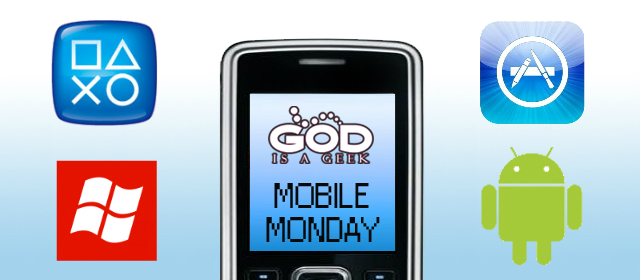 Instead of being down in the dumps because you've started a brand new week of work, why don't you download some games and play your way to the end of the week? This week we've got Basketball: Hoops of Glory, a game that tests you on how skillful you are at putting that orange ball through the metal hoop. Next we've got an XBLA/SEN game that made quite a splash last year, The Fancy Pants Adventures. Thirdly there's Street Wrestler, a game in the same vein as Streets of Rage except with Lucha Libre wresters; what could be better than that? Lastly there's iBomber Defense: Pacific, the fourth game in the iBomber series of games and one with some pretty interesting gameplay mechanics that we don't often see in this style of game.
That's all we've got for this week, read on for the full reviews of each game and down forget to come back and let us know what you thought of each game in the comments below.
Game on!
Titles are available on iPhone and iPad unless specifically stated otherwise. If you like what you read, click the small black "App Store" button to load iTunes up and purchase the title!

BASKETBALL: HOOPS OF GLORY:
There are some games on the iOS App Store that attempt to emulate sports. There are football games, American football, hockey, you name it and there's probably a game for your iDevice that attempts to bring the game to your fingertips. The trouble is that most of these games are supposed to take place over huge areas, not a five inch screen. Basketball: Hoops of Glory, developed by Synqua Games is a little different, sure it can't emulate the true feeling of playing basketball, but it can have a go at bringing the skill of free throws to your mobile device.
The gameplay of Basketball: Hoops of Glory is centred around taking free throws, basically throwing the basketball so that it goes through the hoop from various distances. The further away you are from the hoop, the harder the game becomes as you'll have to throw the ball harder causing you to have to try and predict where the ball will bounce when it inevitably hits the backboard or the hoops itself. There are various modes for you to sink your teeth into and most people will want to get to grips with the game by going straight into practice mode. If you want to get into the meat of the game as soon as you can however, there's the Challenge, Arcade and Time Trial modes to whet your free throw appetite.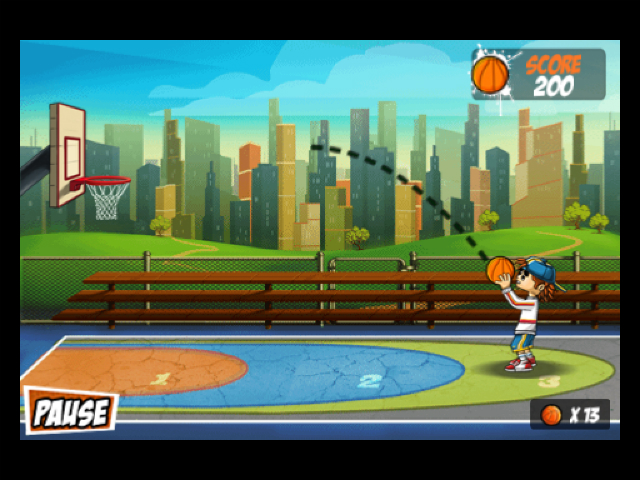 The Time Trail and Arcade modes are fairly self-explanatory, tasking the player with getting as many baskets within a time limit or just as many baskets as you can before getting bored. The main crux of the game comes from the Challenge mode. In this mode you have to get as many baskets as you can while trying to overcome whichever challenge the game throws at you. Upon finishing the level you'll be awarded stars, up to three of them (surprise, surprise), based on how well you overcame the challenge. Some of these challenges are quite difficult and require some semblance of skill in order to judge how high and fast you're going to throw the ball in an attempt to hear that "swish" sound we're all striving for.
The controls in Basketball: Hoops of Glory couldn't be simpler, the player can literally play the game with one finger, which always makes these games more accessible to a wider audience. All the player has to do is place a finger on the screen and a line of trajectory will appear, slide your finger up and you'll throw the ball higher, slide your finger to the left and you'll throw the ball faster. Let go of the screen all together and you'll launch that orange ball along the line of trajectory that you've determined, hopefully ending up through the hoop. But don't get your hopes up, Basketball: Hoops of Fury isn't an easy game and does actually require some skill from the player in order to judge how high and fast to throw the ball.
Basketball: Hoops of Glory is a game that requires an amount of skill that most people wouldn't be expecting given the aesthetics of the game. Everything looks like a Saturday morning cartoon, implying that the game is aimed at children, but people of all ages will easily be able to enjoy sinking those baskets, losing entire hours in the process. There's not much else to the game if you're not interested in the art of free throwing, that's really all the game is about, and it's a shame that you're expected to pay for quite a few of the challenges (arguably the main aspect of the title), but if you've been looking for a game that can test your skill – and at some points your patience – then you may have found it in Basketball: Hoops of Glory.


THE FANCY PANTS ADVENTURES:
In the time since the App Store appeared back in 2008 there have been 25 billion downloads, and a lot of those will have been games. Some of those games that have been seen have made their way to the more traditional gaming devices via Xbox LIVE Arcade, Sony Entertainment Network and even the Nintendo DS or 3DS. It's getting more and more common to see games going the other way too, from the home consoles to the iOS devices. It started with games such as Phoenix Wright, Scribblenauts and, more recently, Ghost Trick: Phantom Detective and now the App Store is saying hello to a popular XBLA game, Fancy Pants Adventures, developed by Over The Top Games
I'm going to assume that you've never played Fancy Pants Adventures on XBLA or SEN for a moment here. In Fancy Pants Adventures you control a stick man with some pretty impressive, if not a little fancy, pants (trousers to us who speak real English) and some rather dashing hair. Your one and only task through the game as to collect small swirling objects and get all the way from the left hand side of the screen, to the right. Classic old-school platformer all the way and the game is much better for not trying to squeeze unnecessary gameplay elements into such a simple, and enjoyable, title.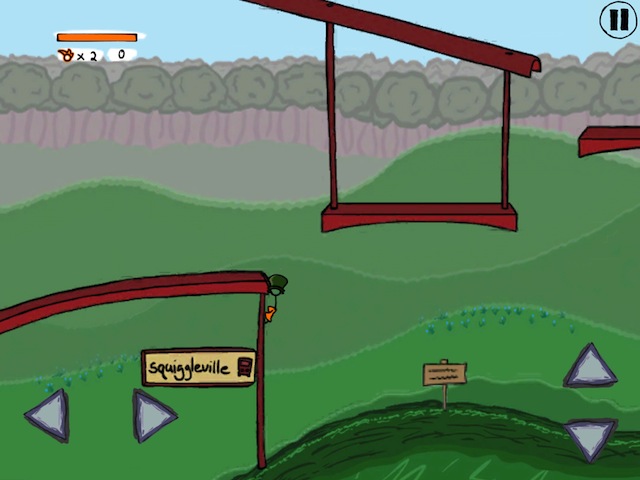 There are plenty of levels to play through, enough to keep people busy for quite a while, and that's before you start adding all the collectibles that are dotted throughout the game for players to find. These collectibles take the form of items of clothing, or cool new hairstyles, so that you can equip your stick-man with whatever you want in order to take on the adventure. If you were impressed with how much content there was on the XBLA/SEN then you're going to be floored by just how long you're going to find yourself playing it here. It even plays well with the original iPad which less and less games that are appearing on the App Store can claim. Not bad for a port of a downloadable console game.
The only major downside with Fancy Pants Adventures is with the controls. As you would expect, Over The Top Games decided to go with the on-screen controls but, to be fair, there isn't much choice when it comes to platforming games. They did an okay job incorporating the controls into the game, and they're nice and responsive for the most part, but when you're playing a game that relies so heavily on being able to perform actions quickly, being forced to use on-screen controls is always going to be a sticking point. There are some people who can use the on-screen controls as well as they can use a controller, and I tip my hat to those people, I'm just not one of them; on-screen controls just annoy me, even on otherwise amazing games.
The Fancy Pants Adventures is just one of those amazing games, it's also huge, at over 1gb in size it's larger than even Infinity Blade and its sequel. So don't expect to be able to grab it from the App Store five minutes before you're getting ready to leave the house. Download it when you've got the chance though, it was an amazing game when it was on the XBLA/SEN and it's still an amazing game now; you can just play it anywhere you want now. There's nothing better than that.


STREET WRESTLER:
It's no secret that we're fans of retro games here in GodisaGeek Towers. We've written a few articles only recently about some of our favourite ones such as Streets of Rage II and Final Fight so, in that sense, we're familiar with the 2D side-scrolling brawler too. It's been a while since I've seen a game from that particular genre grace the iOS App Store, and when they do pop up they've always been something worth taking a look at. Does Street Wrestler, developed by Candy Box Studio follow along that same vein, or is it one of the first ones that potential players would be better of skipping?
The gameplay is very similar to those side-scrolling brawlers of yesteryear, with the main objective being to beat the crap out of everything that has the unfortunate task of simply appearing on the screen. You get the chance to pick one of four characters before you set out on your adventure, each of which has been lovingly – and painstakingly – modelled and textured in order to ensure that Street Wrestler is one of the best looking iOS games that you can buy. The main point of each level is to get to the end, punching in the face anyone who dares to get in your way. Once you've reached the end, you'll be graded (one to three stars) and then dumped into the next level to do it all over again.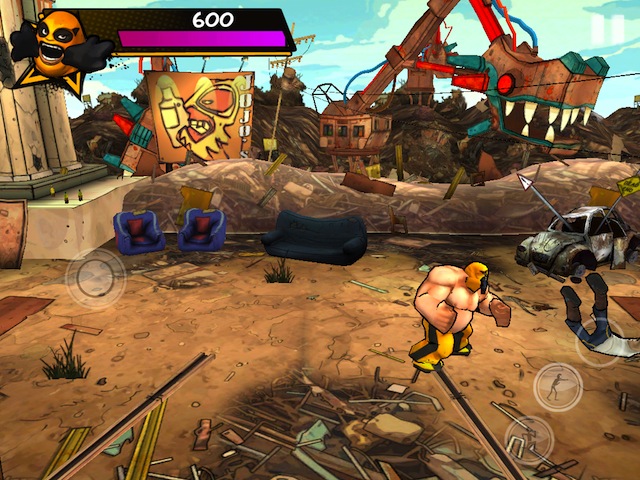 The story behind Street Wrestler isn't the best but I'd be willing to hazard a guess at that being intentional, these types of games never had particularly strong narratives so it would be unfair to condemn Street Wrestler for maintaining a trope of the genre. That being said, the story serves its purpose in the sense that it gives you a good enough reason to be going round forcing people to swallow their teeth; what more do you want? The style of the animation, either the animated stuff that occasionally appears, or the more common still images with text, are all completed to a very high standard, again adding to the overall feeling of quality that Street Wrestler conveys.
It's hard to describe whether the controls of Street Wrestler are good or bad. On one hand they're good, for movement you'll need to place your thumb onto the left half of the screen and wherever you place your thumb, an analog stick will appear. This ensures that you never have to place your hands into an awkward position just to move your character around the screen. On the other hand however, the three buttons that are on the right hand side of the screen, for jumping, throwing and punching, are stationary and suffer from all of the usual annoyances of on-screen buttons such as inaccuracy and a lack of responsiveness.
If you've been waiting a while to scratch that 2D side-scrolling brawler itch then Street Wrestler is something that you may want to try out. The control scheme has the beginnings of being something good but isn't quite there, getting a little annoying at times. The graphical style makes up for a lot of its misgivings though, leaving players with a charming – if brutal – game that harkens back to those days we spent sat in front of Streets of Rage II on our 14″ portable TV's. The good old days are coming back, and they've had a makeover.


iBOMBER DEFENSE: PACIFIC:
If you've been reading Mobile Monday for a while then you'll already know that we're fans of the tower defence genre; we've reviewed quite a substantial amount of them, on all devices, we've also reviewed the first game in the iBomber series. These games centre around the theme of warfare instead of the fantasy elements that you would see usually in a game of this genre and they're a breath of fresh air. Today we're taking a look at the second iBomber game, iBomber Defense Pacific, developed by Cobra Mobile (the guys behind the amazing Storm in a Teacup).
As usual from a tower defence game, at the start of the level you're given a base and the objective of protecting it from destruction at the hands of your enemies. This is a beautifully simple concept, and that's why these style of games tend to be a little addictive, but when you actually get into the meat of the game you'll soon realise that things aren't so simple after all. The enemies will come at you from all sides, often overwhelming you very quickly if you haven't anticipated their movement and put up at least some form of defence. The addition of a secondary objective, an objective that isn't compulsory in order to complete the level but something that people are going to want to do nonetheless, is a genius move and keeps people replaying levels long after they would have normally moved on. These secondary objectives can range from protecting an additional building to destroying all the crates in a level through to destroying missiles silos and bunkers by dropping bombs on them. Extremely fun indeed.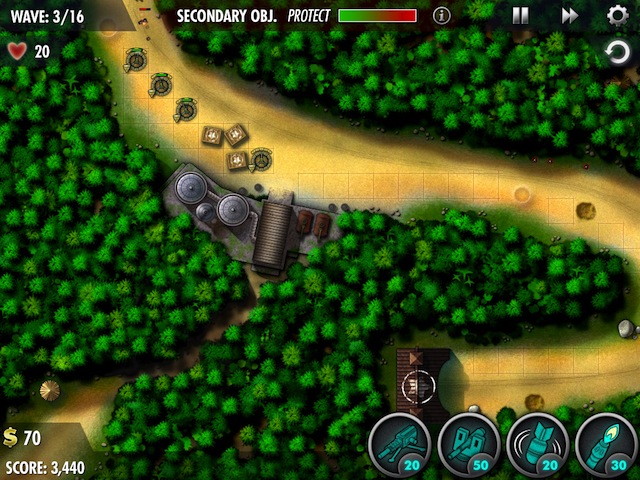 If you're a fan of MMO games, or even the more recent multiplayer shooters, then you'll be familiar will the levelling up system that you'll be able to experience in iBomber Defense Pacific. As you play through level, completing primary and secondary objectives, you'll be awarded experience points which go towards your overall rank. If you manage to level up after a mission you'll unlock a perk, which can then be applied to your profile before you start your next mission. This mechanic is a familiar one for some games but it's a welcome addition to the tower defence genre; adding even more reason to return to missions in what is already quite an addictive title.
The controls in iBomber Defense Pacific are just the same as you would expect from a tower defence game, drag the "tower" that you want to place into the battlefield from the bar at the bottom of the screen onto one of the hexagonal areas in the game world. Once the unit is in place you can upgrade or sell, which are common in this genre, but you'll also have the option to "dig in" which is a cheap, yet effective way of increasing the defence and damage output of that particular unit. Unlike a lot of other tower defence games, you can't place the units wherever you want in iBomber Defense Pacific, they have to go in predetermined locations on the map. This can seem a little restrictive at first but it doesn't take too long to get used to it.
iBomber Defense Pacific is a worthy successor to what was already a great tower defence game, the visuals aren't the best that are available from the iDevices but the gameplay is top notch. The addition of the levelling mechanic including perks will ensure that people keep coming back time and time again. If you're looking for a tower defence game that you can sink your teeth into for a very long time to come (or at least until Cobra Mobile release the next iBomber game) then you won't have to look further than iBomber Defense Pacific.