Play Classic Amiga "Carrier Command" In HMV, Win A Console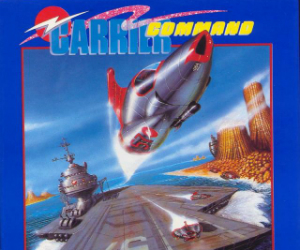 In our second retro-related bit of news today, following on from Nordic's bonkers video, Gamerbase Trocadero and Mastertronic have announced today that they have teamed up for a nice retro-themed event to celebrate the forthcoming Carrier Command: Gaea Mission.
It's been over 20 years since Carrier Command was spotted in HMV – but it will make a triumphant return on Friday 28th September 2012, at Gamerbase Trocadero.
Running on the second day of London Games Festival, between 10:00am and 6:00pm, players will have the opportunity to revisit the original Amiga classic, running on a trusty Commodore computer hooked up to a large LCD screen. There will also be an opportunity to play Bohemia's 2012 update and compare it to the 1988 classic.
If you can't make it to London, Carrier Command: Gaea Mission will also be available to play for free for two weeks after release in the following HMV Gamerbase stores: HMV Manchester, 90 Market Street; HMV Edinburgh, 130 Princes Street, HMV Glasgow, 235 Buchanan Street.
Everyone who plays the game in-store on Friday 28th September will be entered into a draw to win a brand new Xbox 360. There's one console up for grabs at each Gamerbase.
Carrier Command: Gaea Mission is released on September 28th 2012 for Microsoft Xbox 360 and PC.