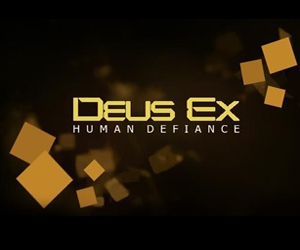 Ok, its very important to take this with multiple grains of salt. Have a look at the calender, then realise that Square Enix could be having a laugh at our expense. A very cruel laugh, but a laugh nonetheless.
When a trademark was registered for Deus Ex: Human Defiance, there was hope that it would usher in a sequel to 2011's brilliant Deus Ex: Human Revolution, but then that was proven to be false as some registered domains popped up for the trademark that illuded to the upcoming movie based on the IP.
Now, via Joystiq, we've seen that the Deus Ex Facebook page posted something yesterday that says:
"Yes, the rumors are true: World's first look at Deus Ex: Human Defiance TOMORROW!"
In the comments section of an image that was uploaded, they also confirm that it is a game and apparently not the movie.
So…where does that leave Deus Ex: The Fall?
I give up. There's very little doubt in my mind that this isn't an April's Fools joke and if it is, I'm sure there'll be a few disgruntled Adam Jensen-heads (or, Jensenites) out there. Either way, I want a sequel to Human Revolution. Whether that's Human Defiance, or The Fall or something entirely different, another Deus Ex game would be very welcome.
Deus Ex: Human Defiance will never be released as a video game and will not appear on any console, current generation or next generation