God is a Geek Podcast Episode 8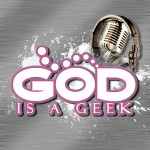 The team is refreshed after a new years break and back to to discuss some hot gaming topics! We take a look at our Darksiders and Bayonetta reviews, are they really worth the 9/10 our reviewers gave them?
Splinter Cell Conviction has been pushed back once again but is it good or bad news? The team share their thoughts on the matter.
We are also gearing up for our GLHF LAN party and Tekken 6/Street Fighter IV tournaments so listen in for details on a great gaming opportunity.