God is a Geek Podcast Episode 13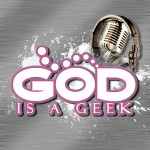 Its time for episode 13 and there are some big topics hitting the headlines with the impending E3. We have a bumper show for your listening pleasure with Asim, Aaron and Aryel are on the show to discuss the latest gaming news.
Topics of discussion include:
– Three top racing games have hit the shelves in recent weeks, we discuss the racing pile up with Split/Second Velocity, Blur and ModNation Racers.
– Alan Wake has been in development for some time, the team examine the final product.
– Prince of Persia: The Forgotten Sands review is up, Asim gives us some insight into his review score.
– Red Dead Redemption is Rockstars latest open world epic but did you manage to get a copy? Remember to check out Adam Cook's review of the game here.
– Pro Evolution Soccer 2011 details have been released, we take a look at the new moves and control scheme.
– The battle of the next gen motion controls will commence at E3, the team discuss the PlayStation Move and Microsoft's Natal (flap/wave).

Remember the team are heading over to E3, you can get in contact here.