God is a Geek Podcast Episode 10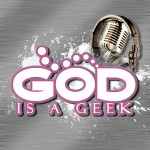 We are in to double figures! Myself, Aaron and Calvin are on hand to discuss some of our latest reviews. Battlefield: Bad Company 2 is a massive hit especially for the PC, Aaron tells us all about his review and why you should take to the battlefield.
We were impressed with the Heavy Rain demo but how does the final product stand up? The team discusses its feelings about the cinematic game.
The MMO market is a tough one, with giants like World of Warcraft dominating it is immensely hard to succeed. Calvin gives us the low down on everything Star Trek Online, is it a World of Warcraft killer?!
Looking for a gaming laptop? Calvin has had the opportunity to get to grips with the Alienware M17x and M11x, he shares his experience with the two mobile devices.
Last but not least we speak to European number 1 Street Fighter player Ryan Hart. Ryan joins us to give his thoughts on the recent GodisaGeek/GLHF Street Fighter IV and Tekken 6 tournaments and the UK fighting game scene.