Sharkoon X-Tatic SP Review

Comfort and quality; the two most important aspects of any gaming headset and the very two words that come to mind when thinking about the Sharkoon X-Tatic SP. Whilst the headset doesn't emulate 7.1 surround sound, the stereo output is unbeatable.
Of course the key selling point of the X-Tatic SP is the fact that this device can be used on Xbox 360, PlayStation 3 and PC. With the flip of a switch, you can use the headset on any of the three platforms – it's that simple. Of course, it can only be plugged in to one device at a time – but simply having one headset for both consoles and your computer is amazing enough.
Not only is the X-Tatic SP a functioning voice-chat headset for both current generation consoles, but it can also work as headphones at the same time. By that I mean, the audio from the consoles can be fed to the headphones rather than the TV. The X-Tatic SP is hooked up to the console audio at the same time as the voice-chat audio (which on both consoles, is a totally seperate system). This truly is brilliant technology. You can play your games with full stereo clarity, while chatting to your friends over PSN or Xbox LIVE, without waking the whole house.
The microphone is also removable, therefore if you only wish to use the headphones one day  rather than the full headset, it's no problem. Unlike most other headsets on the market, the microphone locks in to place. Throw the headset around as often as you like and the microphone wont fall out – I assume this was designed with rage-quitters in mind!
I've only ever seen similar technology in one other product, and that's the nearest competitor, the Mad Catz Turtle Beach PX21. We hope to bring you a review of this product in the run-up to Christmas, but if you can't wait that long…we absolutely recommend the Sharkoon X-Tatic SP for under the tree of any gamers you love. It's available for $69.99 in the US and £59.95 in the UK.
For the technophiles among us, the full feature list and specifications follow.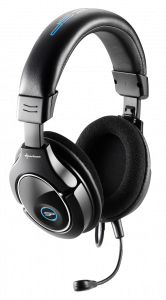 Features:
Gaming stereo headset for PlayStation® 3 and Xbox® 360
Cable length: 370 cm +/-10 cm
Two high quality 40 mm speakers
Simple connection via analog interface (RCA)
Flexible, detachable microphone
Microphone connected via USB (USB to PS3™)
Microphone connected to Xbox® 360 controller (2.5 mm plug)
In-line amplifier for powerful games sound output
Master volume control and microphone mute
Supports Xbox® Live
Separate volume control for voice communication
USB-powered, no additional power adaptor needed
Supports the PlayStation® 3 chat function (via USB)
Also suitable as PC headset
Specifications (headphones):
Diameter: 40 mm
Impedance: 40 Ω
Sensitivity: 118 dB +/- 3 dB bei 1 KHz
Frequency response: 20 Hz – 20 kHz
Power output: 40 mW
Cable length: 370 cm +/-10 cm
Connectors: 1x 3.5 mm stereo plug (green: stereo playback), 1x USB (microphone connection + power)
Specifications (microphone):
Diameter: 6 x 5 mm (L x B)
Directivity: omni-directional
Sensitivity: -58 dB +/- 3 dB
Impedance: 2.2 kΩ
Frequency response: 100 Hz – 2 kHz
Operating voltage: 4.5 V