Batman: Arkham City Collector's Edition Revealed

Warner Bros. Interactive Entertainment and DC Entertainment today unveiled details and images for this Autumn's hotly-anticipated Batman: Arkham City Collector's Edition. The package will be available in limited quantities beginning 21st October 2011 in the UK for Xbox 360, PlayStation 3, and PC.
Batman: Arkham City builds upon the intense, atmospheric foundation of Batman: Arkham Asylum, sending players soaring into Arkham City – five times larger than the game world in Batman: Arkham Asylum – and the new maximum security "home" for all of Gotham City's thugs, gangsters and insane criminal masterminds.
The Batman: Arkham City Collector's Edition will include the following extensive bonus content:
Custom Batman statue produced by Kotobukiya
Early access to the Iceberg Lounge Challenge Map and Batman: The Dark Knight Returns skin
Bonus DC Universe animated original movie, Batman: Gotham Knight
Batman: Arkham City album from WaterTower Music including original songs by hit artists, available via digital

redemption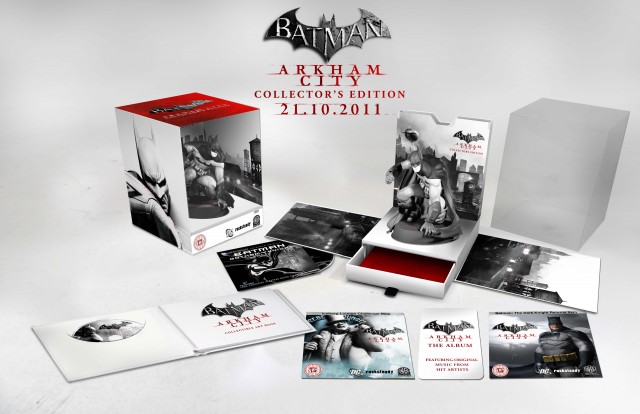 Set inside the heavily fortified walls of a sprawling district in the heart of Gotham City, this highly anticipated sequel introduces a brand-new story that draws together a new, all-star cast of classic characters and murderous villains from the Batman universe, as well as a vast range of new and enhanced gameplay features to deliver the ultimate experience as the Dark Knight.
Batman: Arkham City is due to be released on the 21st October 2011 in the UK for Xbox 360, PlayStation 3, and PC
[nggallery id=457]