OnLive Bring You the Free and Exclusive Demo for The Lord of the Rings: War in the North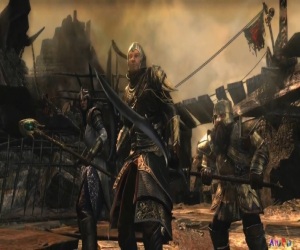 What could be better than knowing The Lord of the Rings: War in the North is almost available for purchase? How about knowing that as of today you can play the free demo?
Get your hands on the OnLive browser download available on both PC and Mac, or use the OnLive games system on any HDTV and you can have access to this free and exclusive demo right now! This is no average demo either, it will allow you to explore all of the in-game features including the 3 player co-op mode. To top it all off, this demo won't require any discs, large downloads or and high performance hardware. That's instant access people!
The Lord of the Rings: War in the North will let you delve into the epic world that is Middle-Earth. Playing as either Human, Elf or Dwarf it is up to you to take up the task of preserving the North from the evil Sauron. Each race has their own little perks for you to explore and familiarise yourself with. Humans are looking to be the stealthy class perfect for sneaking in and causing damage. Elves will be a class of magic and arrow based attacks. If you prefer to get stuck in and draw enemies to you then you can tank with the Dwarf.
The game has taken aspects of both film and book too meaning battle's will be gory, enemies will be in the masses and your fellowship will have to rely on each other to stay alive. Neither book or film have ever done more than hint at this chapter in the history of The Lord of the Rings, so this is the perfect opportunity to plug some holes in your knowledge. Check out the behind the scenes trailer we posted back in October for a great insight to the title.
Never heard of OnLive? Don't worry, we all have to start somewhere so let us tell you a little about it.
OnLive has become a pioneer for interactive, on-demand and on-line gaming. Using video compression technology coupled with cloud computing technology, OnLive can deliver the latest in gaming experiences via a small browser download. This means that you can watch friends play, or in cases like Lord of the Rings: War in the North, you can play the demo without any effort. To get an indepth look or even get hold of the Onlive browser download, you can head over to www.onlive.com and www.onlive.co.uk.
Lord of the Rings: War in the North will be available on Xbox 360, PlayStation 3, PC and Mac from the 25th of November.