New Update For iOS Title Anthill Coming Next Week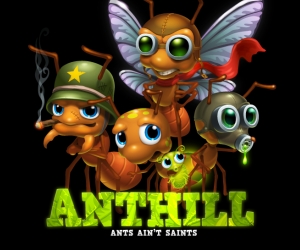 Those insect-minded lot at Image & Form have dropped us a line to say that a "mammoth" update is coming to their iOS game Anthill: Tactical Trail Defence, next week  (insect-minded because they think about insects, not that they have the minds of insects & "Mammoth" because it is a large update, probably not because it contains mammoths).
A mere month after it's original release on the Apple App Store, Anthill: Tactical Trail Defence is certainly causing quite a stir within the marketplace; it's 2,700+ reviews boasting a rather impressive rating of 4.5 out of 5.  Meanwhile the European branch of Apple selected the title as their "Game Of The Week" in October.
The original game is a Tower Defence-style game but set in the unique (and tiny) world of the insect, as players work to protect their anthills from many waves of attacking predators. Players control their army by drawing a trail using their finger, attacking enemies and gathering fallen enemies for food; a resource that can be used to create an even bigger army.
Anthill's developers, Image & Form, could have congratulated themselves on a job well done and moved onto their next title. However those hard-labouring worker ants have announced a 2.0 update of the title with a host of new content and a brand new Infinity Mode.
This new mode is separate from the main campaign-based gameplay, offering a survival mode where players must defend their anthill for as long as possible, while the waves of enemies become quicker and tougher to defeat. Of course, the more enemies that are dispatched, the more food can be gathered and the more resources are available to strengthen your defences.
Other new additions to 2.0 include new enemies, Achievement sharing via Facebook and the usual fixes and tweaks.
See the video below for a better understanding of what Anthill: Tactical Trail Defence entails. Should this trailer entice you into purchasing the game, it is currently available on the Apple App Store at the currently reduced price of £1.49/$1.99/€1.99 – A tiny price for the pleasure of controlling such a tiny army, I'm sure you will agree (especially as the game is a Universal App, playable on every iOS device you could think of).  Those who already own the game will get the new 2.0 update at no extra charge.
Anthill: Tactical Trail Defence is available now on the Apple App Store.