Official Sonic the Hedgehog Merchandise Store is now Live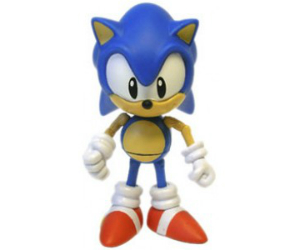 We've all done it, we've all broken down and knelt before our respective gaming Gods and asked for clothes and other merchandise that reflect our love for video game characters. I personally own various pieces of such clothing, not to mention the countless other video game themed items I have laying around. I thought I was over it, I thought I'd fought back the urges, then SEGA launched the official Sonic the Hedgehog merchandise store and all those old urges came rushing back.
And I love every second of it!
If you're anything like me then you've been waiting for a place where you can buy all you could ever want about a single character, SEGA have heard that call and have made it happen with the help of RHM Solutions. Now we just need to get a store for all the other video game characters we all love. First Sonic, then the world!!!

SEGA has today announced the official launching of the Sonic the Hedgehog Store over at http://www.SonicMerchandise.com/, your one stop shop for all things Sonic the Hedgehog. Need a new T-Shirt? They've got lots to choose from. How about an iPhone 4 case? Well they've got you covered there too. You'd be forgiven for thinking that the news couldn't get any better than that, but you're wrong. Throughout the whole of January you can get 15% off of anything you order (providing it isn't already on offer, of course) by just entering the code JANSALE15 when you're asked. Register on the website and you'll earn points for everything you buy too, these points can be redeemed against future purchases making all those purchases even more worthwhile.
"Sonic the Hedgehog's fan base has grown continually over the past twenty years and the
demand for branded merchandise has increased along with his popularity" commented
Sissel Henno, Head of Brand Licensing SEGA Europe. "By teaming up with RHM
Solutions we are able to provide something for all Sonic fans with an online store that
includes fashionable apparel, collectible figurines, stylish stationery and much more. We
are looking forward to seeing how the store evolves and how consumers can engage with
the brand in a new way."
I'm going to go buy some stuff, you should follow me by heading over to http://www.SonicMerchandise.com now, you won't regret it. You bank balance might though.