Kill Kruger And More With Mortal Kombat Komplete Edition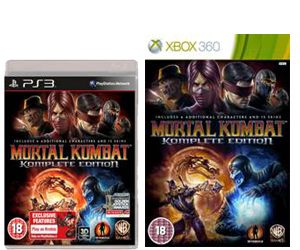 Yet another special edition coming your way, with next week's release of Mortal Kombat: Komplete Edition. FINISH HIM! (And other Kombat phrases).
The Mortal Kombat reboot, released last year was a fantastic return for the bloody brawler  (Don't believe me? Read Martin's 10/10 review!) and was one of last year's biggest surprises. If you haven't dipped your toe into this brilliant reimagining of the franchise, then now is your chance with the Komplete Edition.
Released next Friday, Komplete Edition features the original game and all of the downloadable kontent, such as:
Extra fighters Kenshi, Skarlet, Rain and Freddy Kruger
15 Klassic skins
3 Klassic Fatalities
A download code for the Mortal Kombat: Songs Inspired By The Warriors album
A download code for the 1995 Mortal Kombat movie (via the Sony Entertainment Network or Xbox Live Zune stores)
That's quite a good bundle of bonuses (the Mortal Kombat movie is one of the better game-to-movie translations out there, and the soundtrack is also pretty good). If that hasn't encouraged you to go to your local retailer and yell out "MOOOOORRRTAAALLL KOOOOOMBAAAAT", then take a look at this Behind-The-Scenes video:
Mortal Kombat: Komplete Edition is available on March 2nd on Xbox 360 & PlayStation 3.