Mad Catz Soul Calibur V Arcade FightStick SOUL Edition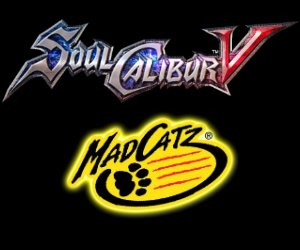 Product: SoulCalibur V Arcade FightStick SOUL Edition
Manufacturer: Mad Catz
Price: £149.99
If you're a fan of fighting games, whether that's the classic Street Fighter (and its many incarnations) or the more modern fighters such as the new Mortal Kombat game, then there's a good chance that you own, or want to own an Arcade FightStick. What the Arcade FightStick's do is to emulate the feeling of playing on an arcade machine, you know, the ones that you used to be able to find pretty much anywhere in the country in the 80s and early 90s but that are pretty much non-existent now. Instead of lamenting about the closing down of our favourite arcades (although nothing will really stop that for long) we can now have that experience from the relative comfort of our own homes, where those 10p pieces can stay where they belong; in our pockets.
Arcade FightSticks have come in many shapes and sizes over the past couple of years, being developed by many different companies in order to replicate the look and feel of their own arcade cabinets, they all basically boil down to the same thing though, an arcade stick and six or eight buttons. With every major fighting game that hits the shelves there's usually an Arcade FightStick to accompany it, and Mad Catz have done a good job at making sure that the peripherals that they make are made to the best of their abilities and are something that people would actually want to own; if not drool over until their bank balances allow them to buy them. Soul Calibur V is no different and Mad Catz have been hard at work, working alongside Project SOUL, to bring us the Soul Calibur V Arcade FightStick SOUL Edition, arguably one of the best looking FightSticks to ever be produced.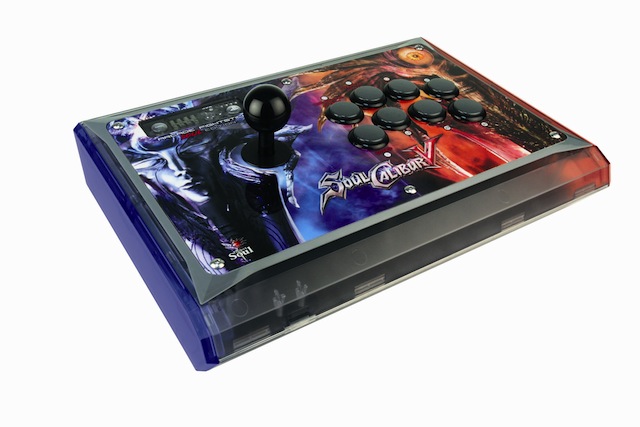 FEATURES:
Compatible with ALL major fighting games.
8-Button Layout with Multi-Speed Turbo Functionality.
Authentic Japanese-style Joystick & Buttons.
Premium-Quality Components with Genuine Namco Noir Layout.
Controller Lock/Unlock Switch.
3-Way Joystick Switch.
Exclusive Translucent Casing with Blade-Inspired EDGE Bezel and Stainless Steel Screws.
Heavy Metal Base.
13 FT USB Cable with Internal Storage.
Connects to the Console via Lag-Free USB.
The first thing you'll notice as you get the Soul Calibur FightStick out of its box is just how heavy it is, this is understandable when you think about it; you're not going to want the controller to be sliding around as you're inputing some of the most complex move combinations in a game such as Street Fighter IV or Soul Calibur. Thanks to this weight, as well as that rubber grips that are in the bottom corners of the device, once you've placed it wherever you're going to be playing your games it's not going to move, not unless you put some serious force behind it – or pick it up of course. The controller uses Sanwa Denshi arcade buttons, eight of them, in order to control the inputs that you'll be giving it. These are some of the most professional feeling buttons that I've ever used, even some of the arcade machines that I've used in the past didn't feel as good as the ones used here. Every single one of them is responsive to even the slightest touch, as well as being nice and springy, meaning that any move you're going to want to put into the device will be performed on the screen as fast as you're able to put them in. After watching some tournament level Street Fighter players it's extremely easy to understand why these types of buttons are hugely important to the professional fighter game player.
There are a lot of things to like with the SoulCalibur V Arcade FightStick, the 13ft USB cable ensures that no matter where in the room you want to play you'll be able to attach it to your games console of choice without much difficulty at all. One feature that seems to come as standard with the higher end Mad Catz range of Arcade FightSticks – but nonetheless something which hugely impressed me – is the ability to wrap the aforementioned 13ft cable away and store it in its own special compartment, ready to be carried away to your next tournament battle without worrying about having the cable wrapped around the device or simply trailing along the floor. Another feature which comes as standard with Arcade FightSticks is the addition of a turbo button. These buttons have always been a cause of controversy when they're included in controllers, some people see them as a crutch required by the more inferior gamers and others see them as a requirement to help them get the best out of their controllers. Whatever your stance is on this argument, it's always a good thing to have the choice and the Soul Calibur Arcade FightStick gives players that choice.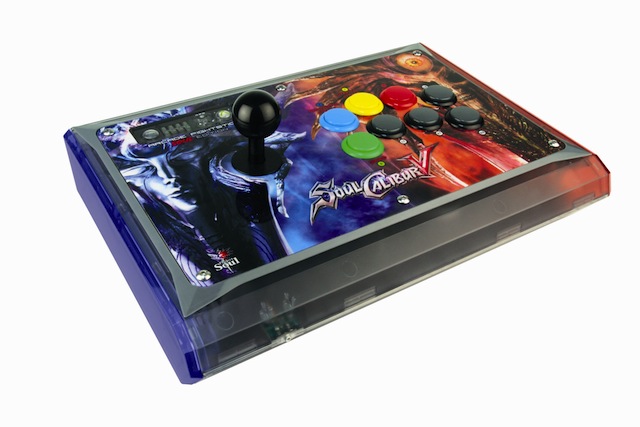 The Soul Calibur V Arcade FightStick SOUL Edition is a hugely customisable piece of kit, players can choose which of the three movement inputs they want the arcade stick to control, either the left analog stick, the right analog stick or the D-Pad, as well as being able to totally lock down the Back, Start and Xbox Guide/PlayStation Home buttons just in case those unscrupulous players walk past and pause your game while you're in the middle of pulling off a combo (just remember that you've got this lock enabled when you're trying to press the Start button at the continue screen; I speak from experience). The FightStick comes with a square gate attached to the arcade stick and some players may find this slightly frustrating if they're not used to this type of restriction gate. The peripheral is easy enough to modify, adding an octagonal gate, if this is something that the individual player would prefer.
VERDICT: If you're in the mood for some fighting games then you'd certainly do yourself a favour by using one of the Mad Catz Arcade FightSticks, of which the Soul Calibur V Arcade FightStick SOUL Edition is certainly one of the best. The amount of modification that the player can perform in order to suit their own personal gaming style is astounding, both for the new and experienced modders. The weight of the device, as well as how well it performs when actually playing games, ensures that it will be a serious contender for the peripheral of choice for many gamers both personally and professionally. There are a couple of things that a lot of players will have to change from their default settings but these aren't difficult things to change and just speak to the amount of customisation that's available on the Soul Calibur V Arcade FightStick SOUL Edition. A pure joy to use and a device that emulates the arcade experience very well indeed.

[nggallery id=771]