Are GAME about to enter Administration?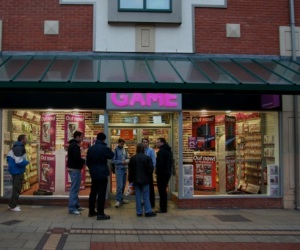 Just when you thought their fortunes couldn't get any worse, the downward spiral of the UK's leading games retailer has reached an all-time low. Initially outed by a report from yesterday's The Sunday Times, GAME has put itself up for sale in hopes of avoiding complete collapse. Why? At this point, they can't even afford to pay their quarterly rent which is due in two weeks time.
Unfortunately, if GAME are unable to find the required funds in this fortnight period, the company could find themselves entering Administration, which would put 10,000 jobs at risk. Certainly not good news in this economic climate.
The report in The Sunday Times goes on to say that financial advisory group, Rothschild, are working around the clock to find a buyer, with Deloitte being prepared to handle insolvency should GAME Group enter Administration.
As if that's not bad enough, GAME's stock dropped to under 1p this morning, an all-time low for the company.
Rumours to this effect have been spreading like wildfire of late, not helped by a recent firesale that took place over the weekend. Stores across the country introduced a Spring Clearance sale, featuring titles like Mad World for as low as 49p! Yeah, I know, cheaper than Angry Birds. Add to this the stock issues with key titles like Mass Effect 3, Mario Party 9, Streetfighter X Tekken and Asura's Wrath, as well as strained relations with EA and Nintendo, and GAME's future seems to be getting bleaker by the minute.
While they haven't directly confirmed or denied the issue, GAME issued the following press release this morning.
Further to GAME's announcement of 29th February 2012 and recent press speculation, the Group confirms that it remains in discussions with its suppliers and lenders in relation to terms of trade that allow the business to operate within the facility provided by its banking syndicate, as announced on 3 February 2012, and to meet its revised strategic plan. While these discussions are ongoing, it has not been possible to source new products from a number of suppliers.

The board of GAME is working actively to resolve these issues as quickly as possible. This includes ongoing discussions with supplies, seeking access to the original facility or alternative sources of funding, and reviewing the position of all of its assets in the UK and International territories.

It is uncertain whether any of the solutions currently being explored by the Board will be successful or will result in any value being attributed to the shares of the Company
Have GAME run out of time? What will the industry be like without them? Let us know your thoughts in the comments section below.