Mad Catz Street Fighter X Tekken V.S. Edition Fightstick Review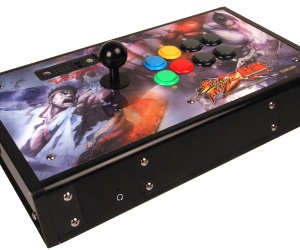 Product: Street Fighter X Tekken V.S. Fightstick
Manufacturer: Mad Catz
Price: £159.99
It seems that with every new fighting game, we get a new fightstick from Mad Catz (most recently the Soul Edition), but hey, we're not complaining because they are almost always exceptional pieces of kit, designed to make fight-fans drool all over their wallet. The coup de grâce to all these other sticks though, is almost certainly the new Street Fighter X Tekken V.S. stick, an enormous beacon of pleasure to experience, with a price tag to match its greatness. Is this the pinnacle of fightsticks?
It could be a very short article, because the answer is a categorical yes. Even if you ignore how incredible the stick looks – and no tech-head could ignore the draw of its aesthetics, believe me – it has been designed with the utmost care and attention to detail, with the end user in mind, providing options as well as the ease of use and portability that even a large, heavy duty fightstick needs in order to be a serious contender.
However, it would be churlish to not spend a moment lamenting how stunning this stick is. First of all, if you are used to the smaller sticks like the Street Fighter IV Arcade one, you'll be taken aback by just how large this stick is. It's a serious bit of kit and wouldn't be out of place attached to an arcade machine. With a beautiful blue and red hue, and Ryu and Kazuya posing, it is a sight to behold. The buttons – on the Xbox 360 version that we are looking at – are colour coded so that if you really aren't used to the button layout on a stick, you will be just as at home with the coloured buttons.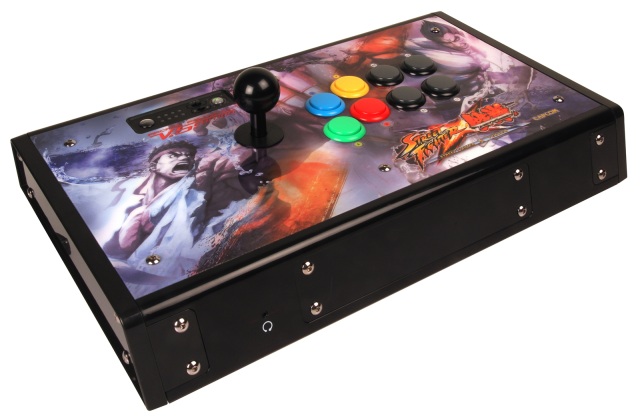 An almost industrial level amount of screws are visible though, but this is with a view to the customization of the device. If you so fancy, you can remove the rubber feet and secure the stick to a table; a nice touch even if most people probably won't use it. At the back of the stick, there's a nice compartment in which, when not in use, the 13 foot USB cable can be stowed away. Again, this is a superb touch borrowed from the other high-end sticks from the Mad Catz range, nobody likes having to wrap a cable around a stick or controller, this is a simple yet elegant solution.
The components themselves are made up SANWA parts, so you can be assured of a high quality feel to them. Whilst the stick itself feels pretty similar to any other SANWA stick, the buttons themselves feel sensational. It's hard to put my finger on exactly why, but the V.S. fightstick just feels expensive and classy.
On top of the usual, perhaps expected nowadays, functionality of a 3-way joystick switch that enables you to make the joystick switch between being a D-Pad or the left or right stick on the normal controller, you also have turbo functionality and a lock switch, which means you can avoid accidentally hitting the Xbox guide button during key moments during a fight, because we all know we can get over-excited sometimes.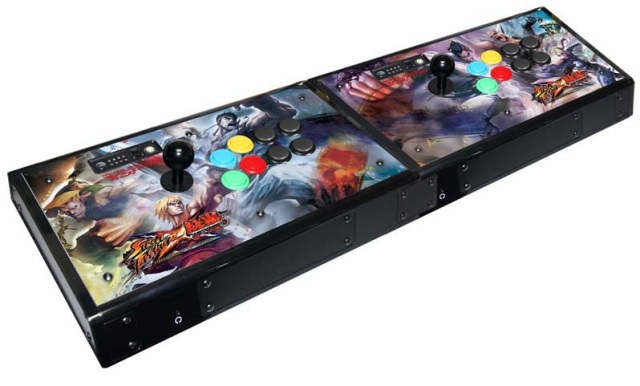 The Street Fighter X Tekken V.S. stick does have competition though, in the form of the Pro line edition, which we'll be taking a look at in the very near future. So what makes it stand out? It costs £20 more than the Pro Line, so it must have additional features, right?
Well yes, obviously the V.S. edition is aesthetically different, but the major feature difference is the ability to create the ultimate home-arcade setup. Now, it's not cheap, but if you have two of the V.S. sticks, you can literally connect them together with a connector kit (it doesn't come with one, and perhaps if you are buying two there should be some kind of deal to make it free) and have two arcade quality sticks together, for the authentic two-player feel. It's a premium setup, but it's another option.
VERDICT: If fighting games are your forte and you want one of the best sticks money can buy, you'd be hard placed to find a nicer, more customizable stick that the Street Fighter X Tekken V.S. Fightstick. This is no cheap investment however, and you'll pay a premium for such a high quality stick.
In terms of the Mad Catz range of fightsticks, this is the absolute pinnacle. A beast of a stick that will have friends salivating over it. If you can afford it, if you love fighters, you'd be mad not to try and get the V.S. Edition in your life.