We Sing Pop! Review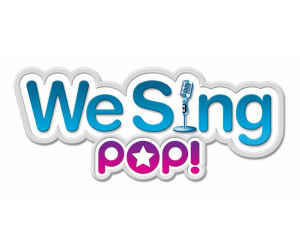 Game: We Sing Pop!
Developer: Le Cortex
Publisher: Nordic Games
Available on: Nintendo Wii Only
If there was a karaoke game based on the sort of music I listen to, chances are that nobody would buy it. It is all very well that I might fancy the chance to buss open the microphones and plow through a mantra-like LCD Soundsystem chorus, or match the guttural screams of Will Haven, but where is the fun in that? Nobody else would be impressed, or care. Because karaoke is at its most fun when you make a complete fool of yourself and step outside of your comfort zone, usually with your inhibitions loosened with some sweet, sweet alcohol.
I love singing – and fancy myself as having a reasonable set of pipes – but in the pub where I am most likely to get involved in some karaoke frontage, the real shenanigans begin when a probably mentally unbalanced denizen of the local area known only as "Disco Johnny" takes the stage and gives us an "Ernie – The Fastest Milkman In The West" (Benny Hill, Southampton represent, yo).
A great pop number with a killer chorus is at the heart of a good karaoke session, and this is something Nordic Games have realised when putting together the latest instalment in their flagship Wii singing franchise. Last time around they gave us their take on the world of rawk, which sat very nicely despite a lack of truly guitar-shredding bangers. We Sing Pop, however, does exactly what it sets out to do.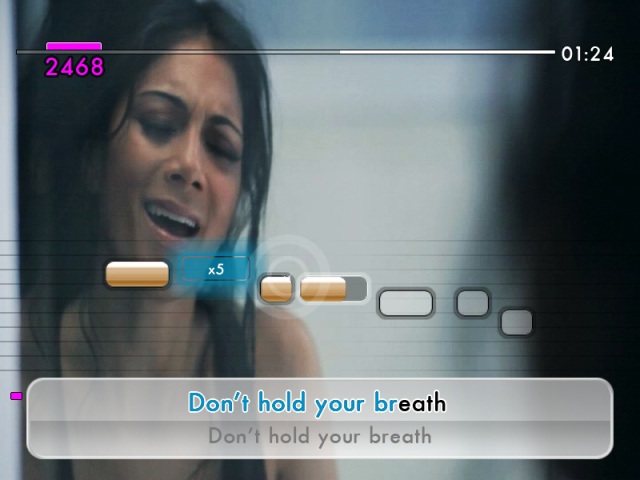 Like We Sing Rock, the developers haven't given us anything new to play around with gameplay-wise. Unless this is your first foray into the We Sing world, this is to all intents and purposes a song expansion pack that also happens to include the superb features and modes as dished up by Le Cortex in We Sing UK Hits. There are a plethora of multiplayer modes, voice coaching modes, replays, voice effects, and a sterling base mechanic that recognises with aplomb the pitch and tone of your voice to as decent a degree as you could reasonably expect. If you don't own them already, you can also buy the package that comes bundled with two very nice Logitech microphones.
Song-wise we have 30 tracks spanning the decades, but mainly focusing on recent pop hits. This package is going to really appeal to a younger audience and the disco diva that lives within us all; there are some great selections. Ubiquitous pop chancers Adele, Rihanna, David Guetta, Bruno Mars and Jessie J all feature, and I am pleased to say that Pitbull, that most abhorrent of throwaway rappers, is absent. The really good inclusions, however, are a little bit older. Classics like Outkast's difficult to sing but anthemic "Hey Ya!", Enrique Iglesias' douchebag love-anthem "Hero", housewives choice-turned drugs shame Scot Marti Pellow covering the Troggs "Love Is All Around" with Wet Wet Wet, Hanson's still-amazing "MMMBop" and Kelis' jiggly "Milkshake", these are all inspired. With two crackers from Lady Gaga, Wham's "I'm Your Man" and "YMCA" to contend with, this also has the potential to transform your living room into the equivalent of a night out in London's G.A.Y club.
Nintendo's Wii is starting to creak now, and although the menus and front end that frame the action look great, the videos included would look better if they were on an HD console. But then Le Cortex can only work with what they are given and yet again this is a polished looking title.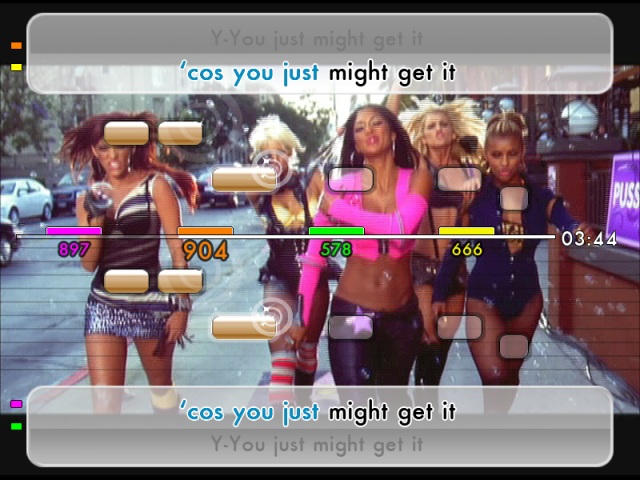 VERDICT: This is another superb instalment in the long running caterwauling concern. For the standalone version, your RRP will give you thirty new songs, which is strangely ten less than the previous version, but still reasonable value when you consider how much that you would be charged for individual tracks on rival platforms' singing games. Pop is arguably the best place to start if you want to buy a We Sing game, as the tracklisting appeals to so many different age brackets and audiences.
Pretty much anyone can find something to sing on this one. The kids can get down with Jessie and Adele, mum and dad can duet on "I've Got You Babe" whilst ironic thirty-something cynics like me can take it to the extreme with Vanilla Ice's classic "Ice, Ice Baby". And all the while, you can rely on the excellent game system itself, and great peripherals. Hopefully, with the dawn of the Wii U, Nordic can harness the proposed improved online functionality and open their own store to further expand and improve on their worthy karaoke franchise.