Assassin's Creed 3 Unite to Unlock the World Gameplay Premiere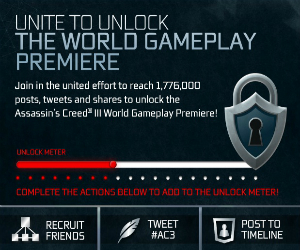 If you're dying to see the first gameplay footage of Assassin's Creed 3, help shorten the wait by uniting with fans across the globe.
Ubisoft will release the first gameplay video of Assassin's Creed 3 as soon as fans reach 1,776,000 posts, tweets, and shares. As you can see the total is already approaching 40% so get tweeting!
People who have been lucky enough to see the game in action seem very excited indeed, check out our preview to see why.
A video was also released yesterday possibly showing a glimpse of what we can expect from the gameplay premiere, as Connor chases down a Redcoat delivering a brutal arrow to the… calf.
To help reach the target click here, and be quick, I can't wait any longer!