PS3 Version of Assassin's Creed 3 Features 60 Minutes of Exclusive Content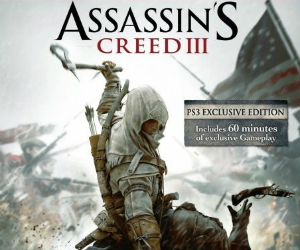 Players who pick up the PS3 version of Assassin's Creed 3 look set to receive an extra hour worth of gameplay.
Ubisoft first announced the PS3 would be getting exclusive content back at E3. A box art picture on Amazon UK, spotted by CVG appears to reveal an exclusive edition.
The Assassin's Creed series has always had close ties with Sony, whether it be exclusive beta's or handheld games, it seems this relationship is set to continue.
However Assassin's Creed 3 isn't the only Ubisoft title set to get some love on the PS3, with Far Cry 3 also announced as having exclusive content on Sony's machine.
Assassin's Creed 3 is set to launch on PS3 and Xbox 360 October 31st. The PC version will follow at a later date, the Wii U launch date is unannounced.