Divinity Anthology Collector's Edition Coming on October 25th
Larian Studios have announced that an anthology collection of Divinity, their popular fantasy RPG series is heading to PC on October 25th with a host of extras.
The collection will contain original game Divine Divinity, as well as its sequels Beyond Divinity and Divinity II. It also comes with a 145-page developer's diary chronicling the 15 years since Larian Studios' humble indie beginnings; the journal also contains two short stories set in the Divinity universe and a collection of original artwork.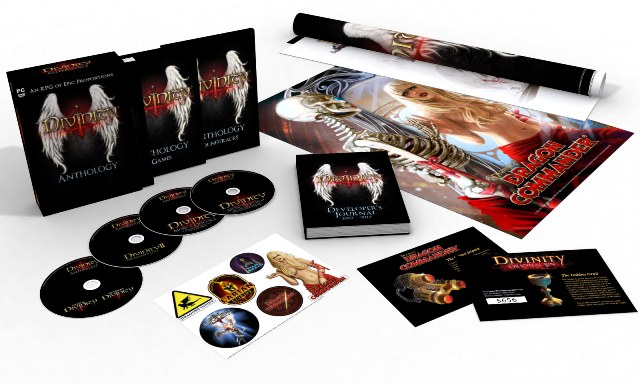 There are also two soundtracks featuring the music of Kirill Pokrovsky, Divinity's composer, as well as out-takes and exclusive, never-heard-before tracks, a pair of double-sided posters and a sticker collection, in addition to two codes for downloadable items in Divinity: Dragon Commander and Divinity: Original Sin, both due in 2013.
So if you've got a hankering for dragons, princesses, heroes and villains, there's never been a better time to return to Rivellon. Check out this slightly weird un-boxing trailer for a taste of what to expect.
The Divinity Anthology Collector's Edition will be in sale from October 25th, priced at £19.99.