Rocksmith Review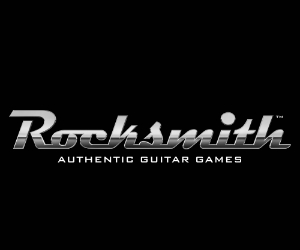 Game: Rocksmith
Developer: Ubisoft San Francisco
Publisher: Ubisoft
Available on: PlayStation 3, Xbox 360, Windows PC
Reviewed on: Xbox 360
We've all done it, we've all picked up some random household object while we're listening to Rock music as loud as it'll go without bothering the neighbours, holding one end to our waists and the other end in the air, playing along with the guitar solo that just happens to be playing as if we're the one and only Rock God. If you're sat there shaking your head saying "I never did that!", you're lying to yourself.
A lot of those people that used to pretend as kids (or big kids) grew up to buy their own guitars whenever they could, sometimes learning to play, sometimes just starting and then, after realising they weren't the Rock Gods they had been pretending to be, put the guitar in the corner and let it gather dust. Rocksmith is the game from Ubisoft that gives all of us aspiring Rockers a reason to pick up our trusty axes once more, and maybe this time we'll actually learn something. Restring those guitars, wipe off those fretboards, because just as a Blacksmith would turn something into a piece of metallic art, Rocksmith will mould you into a Rocker!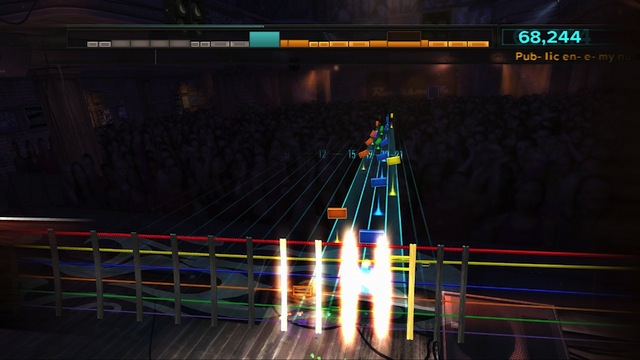 GRAPHICS: A lot of Rocksmith appears as full videos, videos that teach you how to play chords, how to slide, how to perform hammer-ons and pull-offs and just about everything you could possibly think of. As such, the visuals of the game don't really come into play; and even if they did, it would be a wholly irrelevent aspect of the game. Rocksmith is all about making you look good while playing a guitar, not looking good itself. Everything looks crisp and clean, and the notes are easy enough to make out, all being coloured in very specific colours based on which string you're going to be playing them on (Red, Yellow, Blue, Orange, Purple and Green respectively). The hardest part of this section of the game, in relation to the visuals, is the fact that because the track is on an angle it can be difficult to see in advance which fret you're going to have to play until the note is almost on top of you. This is only a problem the first couple of times you've played a song though, and Rocksmith is a learning tool so you'll want to practice the songs over and over again in order to learn them properly, so it's not an issue for long.
SOUND: When you're talking about a music game, and one that's sole purpose is to teach you how to play a musical instrument, you're going to expect that the audio quality is something special, and Rocksmith doesn't disappoint. With music that straddles all of the various incarnations of "Rock" from some slow funky Rock in the form of 'Sunshine of Your Love' from Cream, through Classic Rock with Lynard Skynard's 'Sweet Home Alabama' all the way through to more modern Indie Rock, with the likes of 'Use Somebody' from Kings of Leon; there really is something for everybody, and it sounds amazing too. Especially when you hear the song back after you've finished playing it and you hear your parts mixed in with the actual track. You're now a recording artist, or at least you can tell that to yourself if you want to make yourself feel better.
There is a slight downside to the audio aspect of Rocksmith, or perhaps it won't bother you at all, it depends on how you play your games. In order to experience Rocksmith in the best possible way you're going to have to listen to the audio through an external source; for the very best experience, a pair of headphones. This is due to the slight delay between the notes being played on the guitar and the game recognising them. This lag is only a fraction of a second but when you're in the middle of a song and you can hear your own guitar, and then the same not played back a fraction of a second later on the TV, it can sound a little off. Stick a pair of headphones on and you'll be able to enjoy all of the game's audio, and your own guitar playing in exactly the way that the developer's intended. The developers also recommend not using HDMI for audio, which is worth thinking about.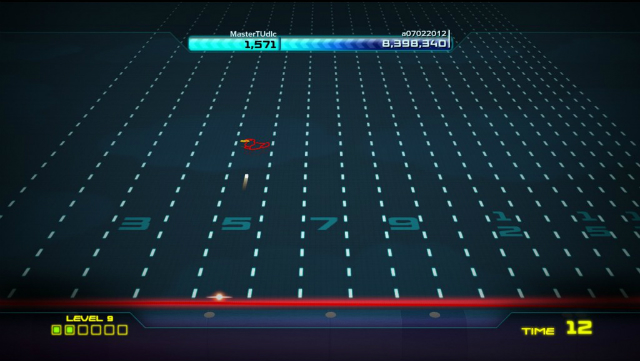 GAMEPLAY: The gameplay in Rocksmith, if you can even call it gameplay and not a series of guitar lessons, revolves mostly around playing songs of an increasing difficulty using a variety of different guitar techniques that help you become better at playing the guitar as you go along. When you first start up the game you'll be asked which instrument you want to play as you can use Rocksmith to learn either the guitar or the bass, simply plug in the guitar that you wish to learn, select it from the start up menu and you're off into the wonderful world of making music; it even asks you which style headstock you have.
There are plenty of aspects of Rocksmith that you can sink your teeth into. Want to play a couple of songs to get into the swing of things, getting used to fretting notes and plucking strings while looking at the TV instead of the fretboard? Then you can do just that! Want to practice a couple of techniques such as sliding up and down the fretboard and a whole heap of other things? Then there's that open to you as well; among a whole host of other things. If you want to learn techniques but would rather play a game in order to do so then there's the Guitarcade games to keep you occupied. These games are the same techniques that you've already learned but presented in a game, complete with leaderboards to add a competitive edge to them. These games are one of the only true "game" areas of Rocksmith and, unfortunately, they don't hold up very well. They're a nice break from doing the same thing over and over again but they don't feel as if they're teaching the player as efficiently as the main areas of the game, they're just a simple diversion.
As you play more and more songs in Rocksmith you'll graduate up the skill levels, so you can actually see how well you're doing at learning the guitar with a quick glance up into the top right hand corner of the game screen. There's something nice about being able to see that you're actually learning something every time you pick up the guitar. If you're a sucker for levelling mechanics, then there's a good chance that you're going to continue picking up Rocksmith not only because you want to learn a little bit more guitar, but because you want to level up a little bit more. While this skill level advancement is primarily a benefit to the game, there's also one major downside, especially for relatively professional guitarists. There's no way to set your own level within Rocksmith, so seasoned guitarists are just going to have to work their way through the amateur levels of the game before they're going to get to the areas that are more suited to their own level. It's still fun to play, so guitarists may not have much of a problem doing this, but it's still something worth noting.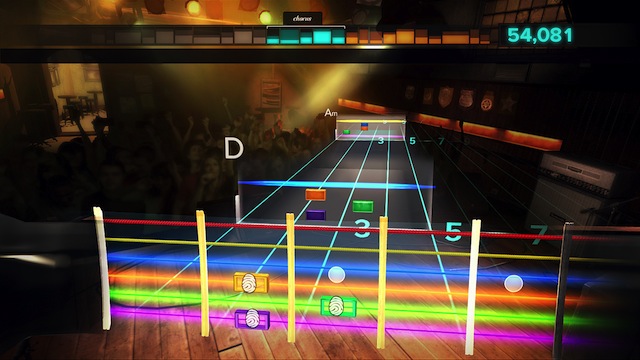 LONGEVITY: If you're serious about learning to play the guitar then Rocksmith has the potential for lasting as long as you want. With all the chords to learn, guitar techniques and songs that you can play through, you'll be playing the guitar, learning and loving it for years if you want. If you're just interested in Rocksmith as a Rock Band that you can play with a real guitar, and you're just going to play through the songs and then never play it again; it's not going to last very long. If that's what you're interested in Rocksmith for though, you're looking at the wrong game.
VERDICT: Rocksmith is more of a learning tool than a game. Whilst there are gameplay elements that will keep people picking up the guitar, learning something small and then putting it back down, there's no doubt in my mind that it's a title that's more suited to being sold with new guitars in a music shop than in a game shop; even the box quote is from a Guitar magazine. That being said, there's also no doubt in my mind that all those people who picked up a real guitar instead of a broom/mop/cricket bat when they were kids should own Rocksmith. Whether you pick it up for hours at a time or every couple of days in order to become the Rock God you always wanted to be, or you pick it up once a week just to learn a new song or keep your skills up to scratch, there's something here for all wannabe Rockers. If, like Kiss, you want to 'Rock and Roll all Night' Rocksmith is the game you've been looking for.