Sega Has Announced That Some Hell Yeah! DLC is Forthcoming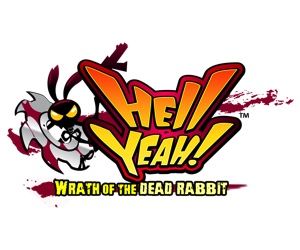 The insane Hell Yeah! Wrath of The Dead Rabbit on XBLA and PSN, is getting some downloadable content. On the 24th October, you'll be able to pick up some new masks for The Prince of Hell – 50 in total. Ash will also be able to sport 11 new skins for his drill-come-jetpack with this DLC, called Pimp My Rabbit. Some of Sega's best loved series' are set to feature in this skin pack including Jet Set Radio, Crazy Taxi and Super Monkey Ball.
For fans of the game, though, the reveal of more content around gameplay is probably more inviting. 50 new challenges, that total up to about 3 hours of extra game is also coming on the 24th, titled The Virtual Rabbit Missions.
Pimp My Rabbit will cost £1.99 and The Virtual Rabbit Missions will cost fans of the game, £3.69. Personally, I loved the look of the game and the music was sublime, however the gameplay left a lot to be desired. However, if you enjoyed the game, more Hell Yeah! will, no doubt, have you grinning from ear to ear.