Confirmed: Ubisoft's Watch Dogs Coming in 2013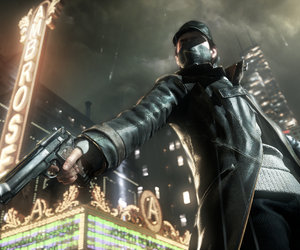 Ubisoft have confirmed that their open-world cyber-thriller, Watch Dogs, is definitely coming next year.
According to a report on Joystiq.com, Ubisoft's CEO, Yves Guillemot, has confirmed that futuristic hacker opus, Watch Dogs, is due to launch in 2013 on Xbox 360 and PS3, with a Wii U release a possibility "for sure".
One of the biggest surprises at E3 this year, Watch Dogs (or Watch_Dogs, if you like) is the story of vigilante hacker Aiden Pearce, a techno-wizard not afraid to get his hands dirty if – or when – it comes to it. By hacking the Central Operating System, or (CtOS) of a near-future Chicago, he's able to control traffic or power, or even track an individual through their digital devices to download all of their dirty little secrets in seconds. Aiden uses these nifty tricks to bring down those who have committed sins but somehow managed to escape prosecution and punishment – he's a bit like Batman, but in a mac and baseball cap.
Being one of Ubisoft's most exciting prospects, the news that the stunningly beautiful Watch Dogs is coming next year and on this generation is great news – and more proof that, despite the hype for the next-gen systems, the 360 and PS3 ain't done with yet. In case there's any doubt – and for those who may not have heard of Watch Dogs – here's the rather extraordinary E3 demo. Don't ever say we're not there for you.
Watch Dogs is set to launch in 2013 on Xbox 360 and PlayStation 3.