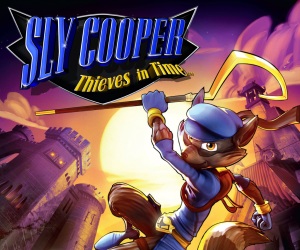 Developers Sanzaru Games have come up with a novel way to use your combine your Vita with your PlayStation 3 in Sly Cooper: Thieves in Time.
In this trailer, Glen Egan of Sanzaru talks us through using the PlayStation Vita as a kind of treasure finder to reveal hidden collectibles scattered throughout the world of Sly Cooper. With one person on the PS3 controller, a second (or perhaps the same gamer with fast hands, we're guessing), can look "through" the Vita's screen to highlight secrets and swag.
It's a cool idea, although if its implementation requires another person it could be a little useless to the solo gamer, and it certainly will be useless to those who only own one of the two systems. Still, it's always good to see developers trying out new ways to make cross-play more interesting.
Thieves in Time is the fourth game in the Sly Cooper series and the first to be developed by an outfit other than Sucker Punch (who we hope are busy working on the Infamous threequel right now). It sees the pages of the Cooper family tome, the Thievius Racoonus, disappearing, forcing anthropomorphic raccoon Sly and his partners Murray and Bentley to embark on a quest to restore them. Check out the trailer to see how you can use the PlayStation Vita to augment your PS3 experience.
Sly Cooper: Thieves in Time is set for release on PlayStation 3 and PlayStation Vita early in 2013.