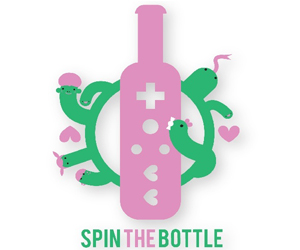 Seriously. The world flips out over the second Grand Theft Auto V trailer, but this is where it's at, for a multitude of reasons. An eagle eyed NeoGAF user spotted a trailer on YouTube for a brand new Wii U game that's coming next spring – Spin the Bottle. Just like the game you played when you were a youngster, players will be spinning a bottle, but this time it's on the Game Pad's screen.
Scandanavian based KnapNok Games and Redgrim have designed a game where players will not need to turn on the TV. Up to eight players will interact with the Game Pad and use their WiiMotes after the spinning has taken place. Rather than get off with the person who has a bottle facing toward them, the spinner and spinnee will team up to complete certain challenges.
Not entirely sure how sexy things could get, but KnapNok has stated that it is a game for the whole family so chances are that the sexual interaction would be at a minimum. Hopefully.
Spin the Bottle is set to release in Spring, 2013 for Nintendo Wii U