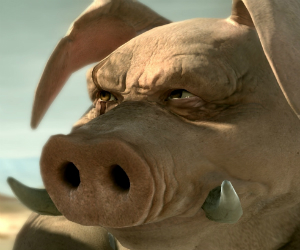 The Chief Executive Officer of Ubisoft – games industry legend Yves Guillemot – has confirmed that the company is still very much behind the long-delayed sequel to 2003's cult hit Beyond Good & Evil – but the success of their Rayman franchise has slowed development of the game.
In an interview with Polygon.com, Guillemot stated that: "What's very important is that Michel Ancel is kind of doing too many things at the same time… He was working on Rayman Origins last year, and he's working a lot on Rayman Legends this year. So, you know, when he does that, he kind of puts too much of his time on the other projects that he has. So the fact is, that working on Legends is slowing the process on Beyond Good and Evil 2."
We at Godisageek all loved Rayman Origins, and with Rayman Legends due out early next year, that series is looking in great shape. Maybe that will leave Ancel some time to work on Beyond Good & Evil 2, as demand for the title has been rife for years, only made even more feverish by the acclaimed re-release of the title on Xbox LIVE Arcade and PlayStation Network in early 2011.
In the interview, Yves went on to say: "It's really a game that we've been working, we have worked on, and is a game that we want to do," he said. "But there are so many things that have to be done that, you know, this one is going to come in line at one point, but at the moment Michel is really on Rayman Legends."
Ancel has stated time after time that the game is still in active development, but perhaps we will find out more after the work on the commercial release of Rayman Legends is complete. Just to keep you satisfied until that time, here is the only official clip Ubisoft has ever released for the title, showing some of the initially-developed in-game HUD and early gameplay footage. We still live in hope!