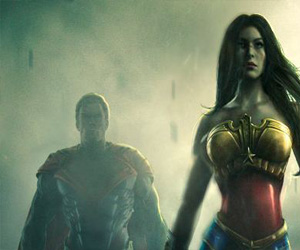 Injustice: Gods Among Us looks absolutely awesome already, with a host of killer DC Comics characters on its roster, and developers with a proven track record with decent (for the West, anyway) fighting games.
Now, creative director, Mortal Kombat veteran Ed Boon has revealed via his Twitter that two new faces have joined the lineup that already includes Batman, Superman, Cyborg, Wonder Woman, Harley Quinn, Solomon Grundy, The Joker, Green Lantern, Deathstroke, Flash and Green Arrow.
The two noobs (no pun intended) are none other than Superman's arch-nemesis Lex Luthor and Batman's spine-shattering foe, the sinister, hulking agent of anarchy – Bane.
You can check out Boon's Twitter @noobde (did you really expect it to be anything else?) for some exclusive pics which he has posted from the new issue of @Gamer magazine.
[nggallery id=1197]
Injustice: Gods Among Us hits Xbox 360, PlayStation 3 and Wii U in April 2013