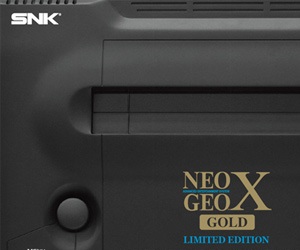 Funstock have today announced that their NEOGEO X handheld, a device which comes pre-loaded with 20 titles from the back catalogue of SNK's beloved arcade-based console, is now available, in stock and shipping from www.funstock.co.uk to European, Australian, Russia, Africa and Middle Eastern Territories.
There is also a Limited Edition version available, which includes a thrown-in Ninja Masters game card, featuring an emulation of the underwhelming 1996 beat 'em up.
For an RRP of £175 (E199 in the Eurozone), the handheld does look pretty cool and includes some genuine classics – Metal Slug, Real Bout Fatal Fury and Samurai Shodown II in particular make this an enticing prospect for the retro enthusiast.
What do you get for your outlay?
The NEOGEO X Handheld – 4.3" LCD screen, stereo speakers, 16:9 and 4:3 display options
The NEOGEO X Station – houses NEOGEO X Handheld for charging and audio/video output capabilities via HDMI and composite cables (for a true "classic" experience)
One NEOGEO X Arcade Stick – Authentic arcade experience, for use with the NEOGEO X Station
20 Pre-Loaded Classic NEOGEO® AES games:
3 COUNT BOUT
ART OF FIGHTING
ALPHA MISSION II
BASEBALL STARS II
CYBER LIP
FATAL FURY
FATAL FURY SPECIAL
THE KING OF FIGHTERS '95
KING OF THE MONSTERS
LAST RESORT
LEAGUE BOWLING
MAGICIAN LORD
METAL SLUG
MUTATION NATION
NAM 1975
PUZZLED
REAL BOUT – FATAL FURY SPECIAL
SAMURAI SHODOWN II
SUPER SIDEKICKS
WORLD HEROES PERFECT
Limited Edition Bonus: NINJA MASTER'S NEOGEO X Game Card
If you require any more information on BLAZE's retro box 'o' tricks, then it is available at www.NEOGEOX.com.
[nggallery id=1192]