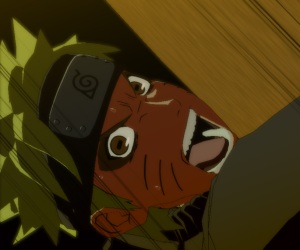 Massive news from Namco Bandai who have announced today that NARUTO SHIPPUDEN: Ultimate Ninja STORM 3 will be available throughout Europe and Australasia on March 8, 2013 (the eve of the anniversary of the death of my man the late Notorious B.I.G) for the PlayStation 3 and Xbox 360.
You know the drill, kids. Based on the long running animated series, NARUTO SHIPPUDEN: Ultimate Ninja STORM 3 will feature a shed-load of characters (80+ !), dazzling anime style graphics, crazy fighting action, mega boss encounters and lots of shouting and lightning and people who 'splode. Woooo!
We are promised it will feature the most extensive character roster of any game so far in the series, and an engaging story mode based around the Fourth Great Ninja War. For the first time in Ultimate Ninja STORM history, players will also nerd out when they realise they will be able to relive the most exciting series of the NARUTO SHIPPUDEN anime as it airs in Japan and streams online. Players will also be able to battle against the world through extensive multiplayer modes, compete in user created tournaments, set up friendly player matches and check out the competition with player cards to view win/loss records and fighting styles.
But there is more – a reason to adopt this bad-bwoy early. Namco Bandai, HIT ME!
"As a special bonus, first-run copies of NARUTO SHIPPUDEN: Ultimate Ninja STORM 3 will feature a code to download an exclusive Dragon Ball Z Goku costume for Naruto and collectible trading card. These special items mark the first time the two mega anime franchises have crossed over in Europe and will only be available for a limited time. Pre-ordering the game is highly recommended to guarantee access to these special bonuses."
MEGATON CROSSOVER ANNOUNCE!
Exciting times for you Naruto fans, so keep 'em peeled for a review on GodisaGeek.com. Seancrest OUT.