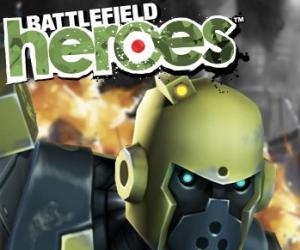 A new generation of mechanical war machines are on their way to Battlefield Heroes, and we've got the trailer and some screenshots to show it.
Free-to-Play is big business nowadays, with huge publishers like EA and Ubisoft throwing their weight behind the model. Here's the latest update info on Battlefield Heroes:
The Moon has been deemed safe for exploration by the scientific community after the discovery of valuable resources that may turn the tide in this war. It is not without its risks though, and so the scientists are using the robot forces equipped with excavation tools to do the heavy lifting in the mines. However, the robots are unsatisfied with their current tool sets and working conditions and have since unionized in an effort to gain the upgrades they need to get their jobs done.

And so it was that the robotic upgrade program began on location within the excavation sites aiming to upgrade and re-equip the robot workforce with the tools they require. However, these upgrades have pushed the robots far beyond the capabilities their intended duties demand. It was then decided that these robots would be removed from their mining duties and sent to the front lines to confront the enemy on the battlefield.
But let's show you the game instead, with this trailer and some screens!
[nggallery id=1258]