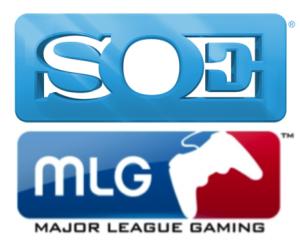 Big news for fans of online gaming with a competitive bent, because today Sony Online Entertainment LLC (SOE), and Major League Gaming (MLG), the world's largest eSports league, have only gone and announced a new and exciting partnership which promises to introduce popular free-to-play FPS PlanetSide 2 to MLG's gaming audience. The year-long collaboration will span all of MLG's properties including original broadcast programming, online competition and presence at MLG events.
The press release tells you more about this exciting development:
Over the next few months, the PlanetSide 2 and MLG teams will work closely to develop ideal competitive gameplay features and settings to showcase the massively multiplayer online first-person shooter (MMOFPS). With MLG's consult and significant community involvement, SOE has committed to creating a long-term eSports initiative within PlanetSide 2 that will highlight an exceptional massively multiplayer competitive gaming experience.

Additionally, SOE and MLG will collaborate to create original programming to air on the MLG network at www.majorleaguegaming.com and www.Twitch.tv/Team/MLG. Details and a complete broadcast schedule will be released in the coming weeks. PlanetSide 2 players around the globe will soon after be able to compete via MLG's GameBattles online competition site. Additionally, PlanetSide 2 gaming stations will be featured at MLG's first Pro Circuit event of 2013 — the Winter Championship in Dallas, Texas, from March 15-17.

Through the partnership, MLG and PlanetSide 2 fans will have greater access to the game through the community-driven programming, GameBattles and Pro Circuit event presence.