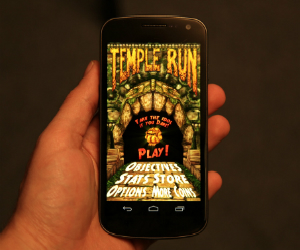 Fuzzycube Software have today released the first proper sequel to Temple Run, one of the biggest mobile games of the last two years.
Available now via the US App Store (iOS), Temple Run 2 adds a suit of new features to what appears to be the same core Temple Run experience. It's immediately obvious that Temple Run 2 is a much slicker, better looking title, but it's not just the visuals that have seen an improvement.
The environments in Temple Run 2 do away with the rigid 90-degree turns of old and brings in curvier, bumpier more realistic terrain. There are ziplines to negotiate, and a mine cart you pilot Donkey Kong Country style. Ohhh yea.
Temple Run 2 also features four different playable characters, each with their own attributes and abilities. Of course, the coin store makes a return, offering a variety of pickups and upgrades.
Temple Run 2 is free from the App Store in the US now, we don't have an EU or Android release date at the moment. Worry not, we're sure you won't have long to wait.
Check out the gallery of Temple Run 2 images below.
[nggallery id=1218]